Billie Eilish hilariously rejects Lil Pump's request to "wife" her on Instagram Live
21 April 2020, 15:59 | Updated: 22 April 2020, 12:30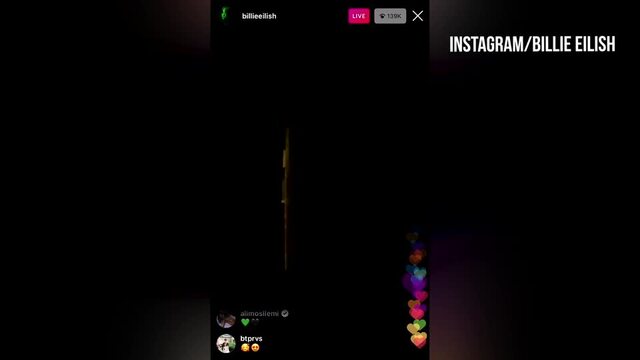 Billie Eilish hilariously rejects Lil Pump's request to "wife" her on Instagram Live
Lil Pump tried to shoot his shot with Billie Eilish while she was playing the American Beauty score on her piano.
Lil Pump just asked Billie Eilish out on a date and to "wife" him during an Instagram Live and she reacted in the funniest way.
Billie Eilish is one of the most successful artists in the whole world right now. In 2020 alone, she's made Grammys history by becoming the youngest person to win all four of the main awards, sang the In Memoriam tribute at the Oscars and released the theme song to the new James Bond film No Time To Die. With that in mind, it's no shock that she has many admirers.
READ MORE: QUIZ: Does Billie Eilish think you are cool?
And it turns out that Lil Pump is one of them. The 19-year-old just proposed to Billie on Instagram and she savagely shut him down in front of 130,000 people.
Yesterday (Apr 20), Billie took to Instagram Live to play some of the American Beauty score on her piano for her fans. During the video, Lil Pump left numerous comments making clear that he's interested in Billie romantically. He wrote: "Your the love of my life" [sic], "Lemme take u on a date" and "Plz lemme wife you", before Billie noticed what he was doing and replied.
As soon as Billie saw what Lil Pump had written, she burst into uncontrollable laughter. Billie then said: "I can't even tell you what I'm laughing at". However, she made it clear she was speaking about Lil Pump by replying "no thanks" as she tried to stop laughing. And I oop. Seeing Billie's reaction, Lil Pump added: "I'm serious" but she ignored him after that.
This isn't the first time that Billie and Lil Pump have interacted either. In 2019, Billie went on Instagram Stories to joke about Lil Pump, after she heard that he wasn't a fan of her music. Laughing, she revealed: "Somebody told me Lil Pump was on a shoot and my song started playing and he skipped it." A self-deprecating queen.
Hopefully Lil Pump handles rejection well because it doesn't look like Billie will be hitting him up anytime soon.