Billie Eilish fans are upset with how expensive her new merch is
17 July 2020, 15:00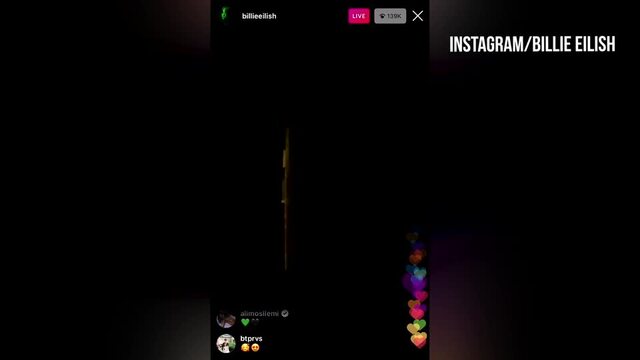 Billie Eilish hilariously rejects Lil Pump's request to "wife" her on Instagram Live
Billie Eilish has released a new line of summer merch including, bikinis, swimsuits, towels and more.
Billie Eilish's new merch is facing backlash. Fans are complaining that they can't afford it because the items cost too much.
Ever since Billie Eilish first rose to fame with 'Ocean Eyes' in 2015, fans have been obsessed with her signature style. In fact, her neon green roots and baggy clothes are so recognisable now that they've inspired everything from Halloween costumes to controversial YouTube pranks. On top of that, Billie's also collaborated with Freak City on her very own hit clothing line.
READ MORE: Billie Eilish unfollows everyone on Instagram following post about abusers
With that in mind, it's no surprise that Billie Eilish's merch is popular but people are calling her out over how expensive it is.
Earlier this week (Jul 15), Billie added a selection of brand new summer merch items to her store. The pieces include a large range of things associated with summer, all emblazoned with her logo. There are simple bikinis (£70/$91), giant inflatables (£75/$98), neon green googles (£35/$46), beach towels (£70/$91) and a whole lot more for fans to enjoy this season.
However, people aren't happy with the prices of the merch and they are taking to social media to complain about them. One person wrote: "why are the prices so high" along with some screenshots from the website. Another fan added: "when billie said 'im too expensive' she meant 'my merch is TOO expensive'".
Fans then started making memes of fake Billie Eilish merch with crazy high prices to poke fun at how unaffordable some of the items are.
why are the prices so high for that shit😭😭

— ell (@MonTheEll) July 15, 2020
when billie said 'im too expensive' she meant 'my merch is TOO expensive'.

— PEACHES (@badgurlpeach) July 15, 2020
Dear Billie's Merch Team,
Just because you slap that name Billie on something does not make it worth $90+.

Sincerely,
- A Broke Bitch

— ACAB (@ayinyt) July 15, 2020
EXCLUSIVE BILLIE EILISH SUMMER MERCH!
Stay hydrated with these thrifted water bottles!
$50 per bottle
Available literally the last day of summer! pic.twitter.com/tko4NXUdV1

— halle (@hurryeilish) July 15, 2020
Given that many of the items Billie is selling can be bought much cheaper without her logo, it's understandable why some fans are criticising the prices. As it stands, Billie is yet to respond. We shall update you if she does.
What do you think? Is the merch too expensive?