Billie Eilish reveals hidden meaning behind My Future lyrics and video
31 July 2020, 12:01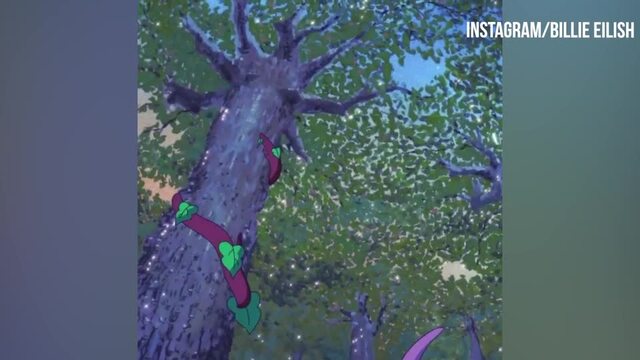 Billie Eilish teases her My Future music video
Billie Eilish's new single 'My Future' is one of her most personal to date and the lyrics and video are filled with secret details.
Billie Eilish is back with a new single and people are living for the beautiful meaning behind her 'My Future' lyrics and video.
Last week (Jul 23), Billie announced that she would be releasing her first single since her James Bond theme tune 'No Time to Die' in February. Billie dropped 'my future' today alongside a stunning animated video. It's currently unclear if 'my future' is part of a new project or a standalone single but it's already soaring to the top of streaming and download charts globally.
READ MORE: Billie Eilish fans are upset with how expensive her new merch is
'my future' is one of Billie's most personal songs to date and, now, Billie has opened up about the meaning behind it.
In a statement, Billie said: "it's a song that's really really personal and special to me. when we wrote this song, it was exactly where my head was at - hopeful, excited... and self-reflection and self-growth. but recently it has also taken on a lot of new meaning in the context of what's happening in the world now. i hope you can all find meaning in it for yourselves."
She also added: "the future feels uncertain and crazy right now. but i think we need to be ready to put the work in, and if we do that, we should be hopeful and excited for our future. i have to keep reminding myself that the future is ours, and i know we want to do everything we can to make it better for everyone in the world. and the world itself. stay hopeful."
In the song, Billie sings about learning to love herself before she loves anyone else (can I get an AMEN?). The chorus goes: "'Cause I, I'm in love / With my future / Can't wait to meet her / And I, I'm in love / But not with anybody else / Just wanna get to know myself".
Speaking to Zane Lowe on Beats, Billie said: "We wrote the song in like two days."
Billie Eilish - my future
The video also has a very special meaning. In an extensive Twitter thread, Dissect Podcast pointed out that Billie sings about self-reflection and being a mirror to herself and the video and song are both mirrors. Exactly half-way through the track the beat switches and Billie goes from lamenting about her past to sounding joyful about her future.
Also the video literally transforms halfway through. The rain disappears, nature starts to blossom and many of the same shots reappear edited to look optimistic and hopeful.
We have no choice but to stan.
Billie Eilish - 'my future' Lyrics
VERSE 1
I can't seem to focus
And you don't seem to notice I'm not here
I'm just a mirror
You check your complexion
To find your reflection's all alone
I had to go
PRE-CHORUS
Can't you hear me?
I'm not comin' home
Do you understand?
I've changed my plans
CHORUS
'Cause I, I'm in love
With my future
Can't wait to meet her
And I (I), I'm in love
But not with anybody else
Just wanna get to know myself
VERSE 2
I know supposedly I'm lonely now (Lonely now)
Know I'm supposed to be unhappy
Without someone (Someone)
But aren't I someone? (Aren't I someone? Yeah)
I'd (I'd) like to be your answer (Be your answer)
'Cause you're so handsome (You're so handsome)
PRE-CHORUS
But I know better
Than to drive you home
'Cause you'd invite me in
And I'd be yours again
CHORUS
But I (I), I'm in love (Love, love, love, love)
With my future
And you don't know her
And I, I'm in love (Love, love)
But not with anybody here
I'll see you in a couple years