Which Blink 182 Song Can Travis Barker No Longer Listen To?
29 January 2016, 12:29 | Updated: 8 May 2017, 17:09
Can you guess?
Death-defying pop punk drum machine Travis Barker is featured in the "Soundtrack Of My Life" of this week's NME and he had some controversial points to make about Blink's back catalogue...
Travis was asked to name the song he can no longer listen to and turns out it is one of his own - namely their biggest ever crossover hit "All The Small Things".
There was a point where Mark (Hoppus), Tom (Delonge) and I were like "We can't play 'All The Small Things' one more f*cking time." We were gonna go crazy, but it would be like going to see Jay-Z and he doesn't play '99 Problems'. For your fans it's their favourite song and they're waiting all night to finally hear it - regardless of it being over 15 years old.

Travis Barker
Well, at least they haven't given up playing it. Well, Tom has but you know what we mean...
Travis also reveals which song makes him most love his own band, choosing "Feeling This" from their 2003 self-titled album.
I feel like that the 'Blink 182' album was just such a great period for Blink because it was a growth record that didn't steer too far from what people loved about us but showed that we were growing and evolving. I think that was our masterpiece, if you will. They were the sweet days.

Travis Barker
Indeed they were Travis. Indeed they were.
Now, can we have a new album please?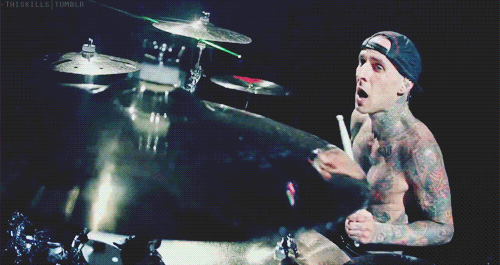 BLINDHUMAN.TUMBLR.COM