Blink-182 reunion tour: Tickets, prices, presale, new album and everything you need to know
12 October 2022, 12:47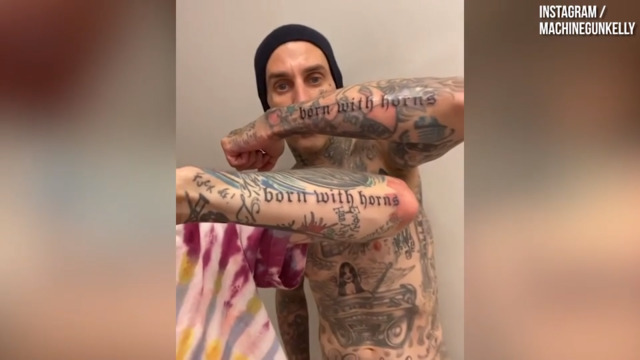 Machine Gun Kelly and Travis Barker announce new album with matching tattoos
Tom DeLonge, Travis Barker and Mark Hoppus are officially back together!
Blink-182 fans assemble! Tom DeLonge, Travis Barker and Mark Hoppus are going on a world tour and releasing new music.
Ever since Tom DeLonge officially left Blink-182 in 2015, fans have been desperate for the artist to reunite with Travis Barker and Mark Hoppus. In the years since, Travis and Mark have released two albums with Mark Skiba. Travis has also gone on to become one of pop punk's most in-demand producers and Mark has recently overcome a public battle with cancer.
READ MORE: Travis Barker says Olivia Rodrigo and Billie Eilish's music is not pop-punk
Now, Tom, Travis and Mark are giving fans exactly what they want. Here's all you need to know about the Blink-182 reunion, including ticket prices, presale information and when the band are going to release their new album.
How much are Blink-182 tickets? Is there a presale?
Taking to Blink-182's YouTube today (Oct 11), Tom, Travis and Mark shared a new video in which they announced their long-awaited comeback. In classic Blink-182 fashion, the video is overflowing with sexual puns about how people "cannot stop thinking about them coming" and "would do anything to make them come". The trio then suddenly appear together.
In the video, text appears and it states: "Blink-182 is coming, world tour, new album, new song edging - 10/14/22 and tour ticket info at: blink182.com". All the while a snippet of Blink-182's new single 'Edging' plays in the background.
So, Blink-182 are releasing a new song this Friday (Oct 14) but what about their tour tickets and where are the band playing?
When do Blink-182 tickets go on sale?
WE ARE COMING! to a city near you!
Blink-182 tickets go on sale next Monday (Oct 17) at 10:00am local time. However, there is also an artist presale which starts tomorrow (Oct 12) at 10:00am local time. To get access to the artist presale, simply sign up to Blink-182's mailing list where you should receive a unique presale code where you can buy the tickets early. Prices for the tour are yet to be revealed.
The tour begins in Mexico on March 11th in 2023 and there will be arena and festival dates in South America, North America, Europe and Oceania. Check out their website to find out if they will be performing in a city near you.
When are Blink-182 releasing a new album?
As it stands, Blink-182 are yet to reveal when their new album is dropping but we shall keep you posted with any updates.
Drag Race UK's Copper Topp Reveals Why Cheddar's Outfit Was Better Than Hers | Drag Race Yearbook