Travis Barker Reveals The REAL Reason Behind Blink's Breakup
3 March 2016, 11:34 | Updated: 8 May 2017, 17:09
So that's why Tom left the band...
Taking a brief break from his hard work on the forthcoming Blink 182 album (as well as a million other projects), Travis Barker stopped by Mr Wavvy's YouTube channel for a quick chat about the new lineup and dropped some info about the reason behind Tom DeLonge's departure from the band.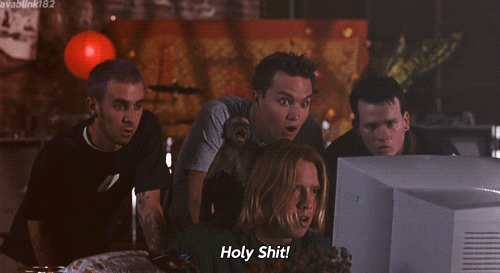 90S90S90S.TUMBLR.COM
Talking about the difficult period they had over the last few years, Travis suggested it was those classic "Musical Differences" that ultimately led to the downfall, with Tom moving in a softer direction.
Mark and I never wanted to change. The last couple of albums, Tom wanted to sound like U2, to record songs that basically sound like Coldplay. For us, we were always like 'Blink is Blink, man. We want to sound like f**king Blink-182'… That's what side-projects are for. I love Blink for what it is. We love Blink and we love the sound of Blink.

Travis Barker
So Tom wanted to be like Coldplay. It certainly explains the major change of direction in the last couple of albums. Does it mean that the new record will see a return to Enema Of The State-era pop punk? We look forward to finding out.
Watch the full interview with Travis below.