INTERVIEW: Travis Barker Says He Has No Personal Contact With Tom DeLonge
5 November 2015, 11:09 | Updated: 20 October 2022, 12:01
We interview Barker about his relationship with Tom DeLonge, his near-fatal plane crash and being held at gunpoint.
In what might be one of the most uncompromisingly honest rock autobiographies in recent years, Travis Barker has laid himself bare in his first book 'Can I Say: Living Large, Cheating Death, and Drums, Drums, Drums."
There have been so many crazy twists and turns in Barker's life, it's surprising he fitted it in one book. He lost his mum at the age of 11, toured round America and abroad with his previous band The Aquabats before joining pop-punk kings Blink 182. Then there was the multi-million dollar clothing company Famous Stars and Straps, his first marriage, divorce, second marriage to Shanna Moakler and two MTV reality series about their life together in California. And then there was the plane crash that has left an indelible mark on Barker and is a recurrent theme in the book.
There are about a million other stories within all of this and we touched on a couple of these over the phone with Travis. He's lovely, and for a drummer who rarely does interviews, he was very candid about his life. The book is available now through William Marrow.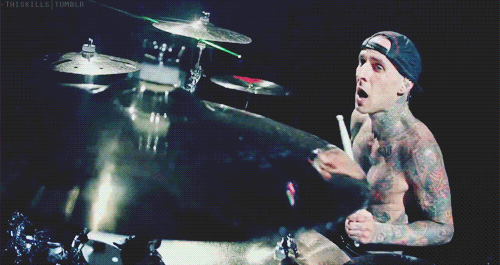 PopBuzz: Hey Travis, how are you today?
Travis: I'm great, man. You?
PB: Yeah I'm not bad, thanks. I really enjoyed your book, it's truly wild. Why did you decide to write the book now?
T: After I got hit to write one, or just talk about my story in general, I wasn't ready. I wanted to wait till I was sober, in a good headspace, and I was just chilling 100%, man. And I wanted to wait till the time that I could talk about certain things that I was still grieving with.
PB: Was it a positive experience in the end?
T: Yeah. I don't know about you but I've never sat down and talked about my life. I've talked about albums, the recording process, but to actually sit with somebody and go through your life is…therapeutic. It's just, oh man; I got so much out from me being young, my mum passing away and never speaking to anyone on it. Just closing up and just being strong but never really talking about it.

Even the plane crash, I never really talked about it. I avoided it like the plague. There was times in the book I was bawling my eyes out and I couldn't even speak for 20 minutes and Gavin (Edwards, co-author) would just go, "Okay, I'm sorry Trav". [I would be] Totally silent till I got my shit back together or they'd be times when we're laughing, dying inside because we'd read the interviews. He would go and contact my friends and ask questions. It was either the highest of the highs or the lowest of the lows.
PB: I thought that was interesting about the book, that you had so much involvement from other people, particularly Mark Hoppus, Tom DeLonge, Shanna Moakler (ex-wife), because they often have different opinions on things. What was your thinking behind that?
T: I wanted it to be real. I've read so many memoirs and I've put them down half way through because I don't believe any of it. Like, this is all bullshit (laughs) I wanted it to be as real as it could get and I thought the interview process would be really cool and honest. It might be humiliating at times but at least it's the truth. For me it was like, why write a book if you're not brutally honest?
PB: What was the most difficult thing and the most embarrassing thing you covered in your book?
T: I think there was funny stuff and more deep stuff. My friend Brett who has been my homie since I was a kid and grew up skate boarding and playing in punk bands, but when he talks about my first bachelor party (Ed – in the book Brett describes in a fair amount of detail the orgy that took place at Travis' first bachelor party. It made me blush when I read it).
PB: That was wild.
T: (laughs) Like, what the fuck? But nothing was changed. Not one word from anyone's interview. I don't even remember some of it, so that was hard. When I was reading them I was thinking 'gosh I was such a fucking dumpster' as far as drugs use. Most of it was medicating to get on the plane, to stay on the plane, to stay in the country I was touring for two or three months at a time. But to me, excuses don't make it better; I just look back and think 'what the fuck was I doing?' I'm clear headed now. I'm sober now, I'm not a womanizer, and I'm not on tour with a new girl every night. I learnt from it. No regrets, no mistakes, just lessons learnt.
PB: There are so many crazy stories in the book. The one that stick out to me is the guy who held you at gunpoint when you were driving your Dad's car. Can you tell me a bit about that?
T: Well I driving my Dad's truck from Fontana to San Bernardino, which is like 30mins away, but that area isn't the greatest of neighborhoods. I'm leaving and I unlock the door and I get in, and he pops in the passenger side and puts a gun to my head. It was like 'what the fuck!" He hit me a couple of times with the nose of the gun and just made me drive. I honestly thought - I was so scared at the time - I really thought this dude he was going to blow my brains out and take the truck.

But it wasn't about the truck. Looking back on it he was a drug fiend and I was taking him to get more drugs. He said, "If you fucking leave when I get out of the car, I'm gonna fucking shoot you". Obviously survival instinct tells you to get the fuck out of there! I honestly couldn't believe he was leaving the car! I thought he was bringing me in whatever I was going. There was no denying in my head, the moment this motherfucker gets out of the car, I'm going to drive this car like I stole it. On the way home from there, it was like an awakening. The same awakening I had in a whole, truly different manner after my plane crash. I'll never take anything for granted.
PB: There is one pretty gruesome picture of your bloodied body after the crash. You mention in the book that this was to demonstrate to people around you what had happened. Did you feel like people didn't understand how serious that crash was for you, and why you have such a fear of flying?
T: Not "people" because I never spoke about the crash. I rarely do interviews. It's not that I don't like talking, but if I were putting an album out I would rather the album do the talking.
After the crash, number one, I couldn't talk about it. I was in no shape to talk about it. Number two, I would go into every interview and ask my publicist to tell people not to ask about it. So I got those pictures because Tom (DeLonge), especially, was pressuring me to fly again. I tried to explain it to him, like 'I can't do it yet, I'm not ready'. Around that time I was send a picture of me after the crash and I asked for all of them because seeing them brought back such vivid memories of everything. I ended up showing Tom and Mark, although Mark was always very supportive from day one. He even visited me in the hospital. He said, "If you never want to fly again, if you never want to play drums again, if you never want to do anything again, Travis, then I would fucking understand you." Whereas, with Tom, there was constant pressure.
There's like 200 more and some are even more graphic. This was the one the publisher picked and he was like this is graphic, but its not so graphic that its going to gross people out, so that's the picture we picked out. But there's hundreds fucking more that will make your skin crawl.
PB: So what's the situation between you and Tom personally, do you have any contact at all?
T: No. The last time I saw Tom we went out for dinner and just hung out. I remember going out to dinner with him and he was like, "Trav, I never just chilled and had dinner with you. This is so cool. When we're not on tour, we should do this more often." I was like, 'yeah!' It was like we were best friends. We actually hung out and chilled in a way we never did before. It wasn't because we had to be in the studio together, or a photo shoot. It gave me more hope for the future of everything - our friendship, the band. Then he wasn't going to do anything related and quit the band. It's whatever. He's weird, I'm weird, people are weird and people make their own decisions. But I haven't spoken to him since then. I wish him the best. It is what it is.
PB: You've worked with so many different artists in your career – from Lil Wayne to Britney Spears – is there anyone left that you'd really like to work with?
T: I've been so blessed to work with so many of my favourite artists and people I've looked up to. I've pretty much done everything! I got some amazing features on my next solo project, from Run The Jewels to Wiz Khalifa to Yelawolf and The Game. I just had the opportunity to work with Cedric and Omar from Mars Volta for a new project, Anti-Mass. I just enjoy it and I hope to keep collaborating with artists I love making music with.
PB: What would your advice be if your children said they wanted to be musicians like you?
T: They do! They absolutely do want to be musicians! I've made it very, very clear to them. They've been on hip-hop tours with me and Lil Wayne and Nicki Minaj, to punk rock tours with Rancid, so they've seen the highs and lows of it. They've seen the work that goes into it beforehand, the practicing the rehearsing and everything. They've seen both sides. They know what's up, and I've made sure to do that with them from a young age, since they were two. Whatever they end up doing, I'm fine with, but as of now my daughter Alabama plays piano and sings and my son Landan plays drums, sings and raps, it's crazy! I'm very supportive and I love them being involved in music.
PB: You should have a family band next!
T: (laughs) That would be awesome! Actually over the summer we would play Ramones songs, it was really cool. Landon would play drums and Alabama would play piano, it was cool.
PB: So you've written this book and gone through all these experiences, what is the wisdom you'd like to pass on to others?
I would say I think it's a running theme in the book; find something you love, that you would do free and then find a way to get paid for it. That's what it was with drumming. My only goal was to do something I love and get paid for it. My goal was never to be a millionaire, be famous, it was somehow to get paid to play the drums, where I would have somewhere to sleep and have food to eat. I think that would be an on going theme and just be passionate with all your heart. I guess that's what you gather, love your family and love life. I'm so fortunate, I feel like I got a second chance a couple of times and I'm so lucky and live everyday to the fullest.