Cardi B shuts down troll accusing her of not being bisexual
20 September 2022, 12:01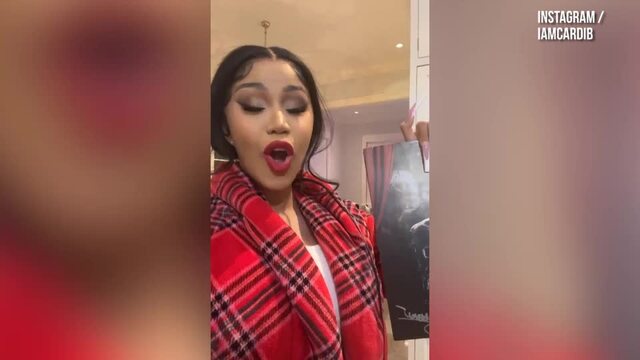 Cardi B reacts to Beyoncé sending her a signed vinyl
Cardi B has responded to claims that she's never dated a woman.
Cardi B has shut down a troll who accused her of not being bisexual because she's never dated a woman in the public eye.
Ever since Cardi B first rose to fame, she's been open about her sexuality and her experiences with other women. However, in spite of Cardi literally stating that she's a "whole bisexual", people routinely dismiss the fact that Cardi is proudly part of the LGBTQ+ community. Cardi has been accused of "queerbaiting" in her music despite being a queer woman herself.
Now, Cardi has clapped back at people who still don't think that she's bisexual and she's done so in the most iconic way.
READ MORE: Cardi B shares hilarious video of how she changes her son's diapers while wearing acrylics
Yesterday (Sep 19), someone tweeted: "Celebrities that came out as bisexual but never dated someone of the same gender" alongside photos of Harry Styles, Lady Gaga, Billie Eilish and Cardi B. They then posted photos of Kristen Stewart, David Bowie, Cara Delevingne and Miley Cyrus with the caption: "Actual Bisexual Icons".
The original tweet quickly went viral with many people pointing out that you don't have to be in a relationship with someone of the same gender to be bisexual. Also, while Lady Gaga and Cardi B have both said that they are bisexual, neither Harry nor Billie have ever publicly labelled their sexualities.
Noticing it, Cardi herself replied: "I ate bitches out before you was born …..Sorry I don't have razr phone pics to prove it to you." We have no choice but to stan.
This isn't the first time that Cardi has spoken out against claims that she isn't queer. In 2021, a Rolling Stone article accused of "queerbaiting" for posing naked with Normani in their 'Wild Side' video. In response, Cardi tweeted: "Queer baiting? I'm married to a man but I have express soo much about my bisexuality and my experiences wit girls."
Cardi then went on to write: "I don't like this new 'queerbaiting' word. I feel like it pressure artist to talk about their sexuality or their experiences that they don't feel comfortable speaking about. If a artist kiss a girl on a video does that means she gotta show videos & text wit other women? [sic]"
Read more Cardi B news here:
Rina Sawayama Reacts To "Industry Plant" Rumour and Paints A Self-Portrait | PopBuzz Meets