Cardi B fans share nudes after she accidentally leaks her own topless photos
14 October 2020, 13:54 | Updated: 14 October 2020, 17:37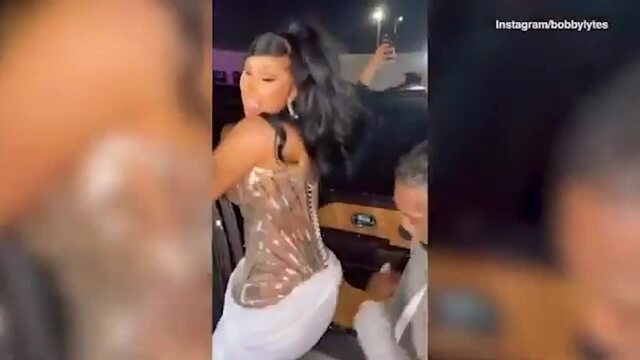 Cardi B celebrates turning 28 in Las Vegas
#BoobsOutForCardi started trending on Twitter after she posted a topless photo on Instagram.
Cardi B fans have showed their support for the 'WAP' rapper after she accidentally shared a topless photo on Instagram.
In case you didn't know, Cardi recently celebrated her 28th birthday in Las Vegas with her friends and family. Judging from her Instagram Stories, things got extremely wild, with Cardi knocking back drinks, hitting the dance floor and twerking on the brand new Rolls-Royce her estranged husband Offset gifted her.
Once the party wound down, Cardi headed to bed in her full glam and decided to jump on Instagram. Well, somehow a selfie of Cardi lounging in her bed topless made it to Instagram Stories. It was quickly deleted, but it was too late, her fans had already screenshotted the image and it started circulating the internet.
READ MORE: Cardi B claps back at conservative commentator Candace Owens for calling her "illiterate"
Cardi took it in her stride, though, addressing the incident in a Twitter voice note. She said: "Lord, why the fuck did you have to make me so fucking stupid and r****ded? Why? You know what, I'm not going to beat myself over this.
"I'm just going to eat my breakfast and then I'm going to go to a party because I'm not even going to think about it. I won't think about it, it is what it is. Shit happens. Fuck it, it's not even the first time. I used to be a fucking stripper, so whatever. Ay, Dios mío."
She went into further detail about what happened on Instagram Live too, explaining that she was trying to take a selfie but accidentally uploaded the photo, despite turning off her phone mid-upload in the hope it would stop it sharing with her followers.
"I'm trying to turn the fucking phone on, by the time I turned the phone on and fucking deleted the shit everybody and their mum saw my salami nipple fucking titties, my big salami nipple titties was all over the internet," she joked.
She continued: "I got some big ass nipples, that just came from motherhood. My daughter fucking stretched out my nipples but that's alright because at least she didn't stretched out my pussyhole because I got a pretty ass pussy."
Fans rallied round Cardi sharing their own (sometimes explicit…) topless photos with the hashtag #BoobsOutForCardi to make her feel better.
Well, there's no denying that Cardi's fans are ride or die.