Demi Lovato accidentally exposes new relationship with Max Ehrich on livestream
30 March 2020, 14:16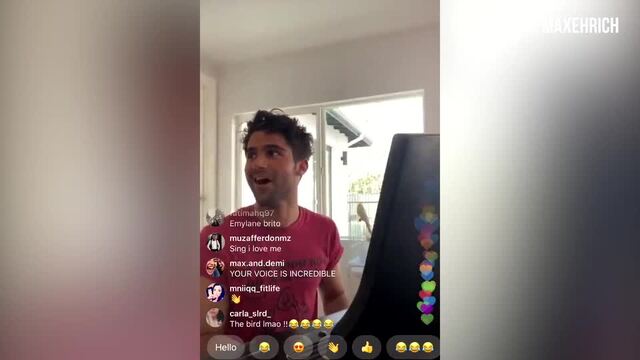 Demi Lovato accidentally appears on rumoured boyfriend Max Ehrich's Instagram Live
Rumours have been circulating about Demi Lovato's blossoming relationship with actor Max Ehrich - and now it seems like it's confirmed, after she accidentally crashed his Instagram Live while in quarantine together...
Demi Lovato has made a comeback of epic proportions this year - reigniting her music career, keeping her mental health in check, and has seemingly confirmed that she is dating the man-of-our-dreams and actor, Max Ehrich. By accident, at least.
The Young and Restless actor and Demi have until now managed to keep their suspected relationship secret, and three weeks into social distancing and chill, we're surprised it's taken this long for one of them to slip up.
READ MORE: Demi Lovato says her old manager used to "control" what she ate
Max was on Instagram Live singing for fans, when the Sonny with a Chance actress accidentally slipped into shot (wearing full working-from-home-attire) as her new beau mouths "I'm live" to which she replies "Huh?" before realising what was going on as she ran away and left Max red-faced and covering his mouth that almost 350 people had just seen what happened.
And I oop...
The quarantining pair have already stolen our hearts. Just the other day 28-year-old Max uploaded a cover of Coldplay's 'Yellow', captioned "4D <3 🌹" - which if you've been paying attention to their hint-dropping, of course stands for Demi.
Fans were already on red alert after Demi commented on a photo of Max's just a few days ago, where he was stood shirtless with the caption: "When u realize u should've packed more for your quarantine stay" to which she playfully replied "fine by me".
And it seems like their relationship is going from strength to strength as they're now permanently together self-isolating, even though just mere weeks ago, Demi discussed on Ellen that she was "single and spending my Saturday nights by myself." Same.
Have we officially found our new favourite Insta couple? Watch this space...