Demi Lovato's Holy Fvck posters banned in the UK for being offensive to Christians
12 January 2023, 15:40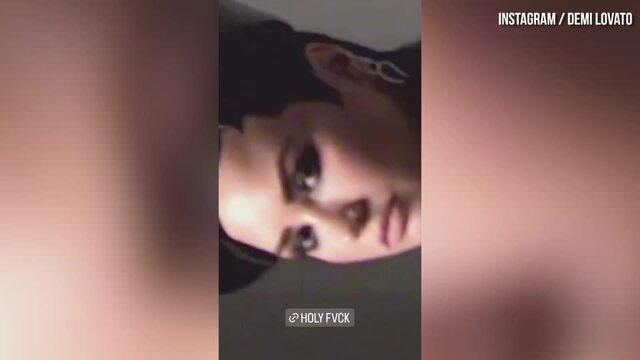 Demi Lovato shares BTS of HOLY FVCK shoot
The banned adverts included images of Demi Lovato's Holy Fvck album art.
Demi Lovato's Holy Fvck posters have now been banned in the UK following complaints from Christians who they offended.
Last year (Aug 19), Demi Lovato released their eighth studio album Holy Fvck. The project saw Demi return to their pop-punk roots and it received positive reviews from critics who praised Demi for creating a cohesive body of work. It also included the hit single '29' in which Demi calls out their ex Wilmer Valderamma over the 12-year age gap in their relationship.
On the Holy Fvck cover art, Demi poses in bondage wear on a cross-shaped mattress. Fans loved the provocative artwork. However, it resulted in backlash from Christians and now the display of Demi's Holy Fvck posters is prohibited in the UK.
READ MORE: Demi Lovato says they're done making pop and R&B music for good
Yesterday (Jan 11), Great Britain's Advertising Standards Authority revealed that they had banned Demi's posters which first appeared in London last summer. The ASA launched an investigation into Demi's promo material after four people reached out to them to complain about the "offensive" nature of the posters and now the group has officially forbidden them.
In a statement, the ASA said: "We considered that the image of Ms. Lovato bound up in a bondage-style outfit whilst lying on a mattress shaped like a crucifix, in a position with her legs bound to one side which was reminiscent of Christ on the cross, together with the reference to 'holy fvck', which in that context was likely to be viewed as linking sexuality to the sacred symbol of the crucifix and the crucifixion, was likely to cause serious offense to Christians."
Demi Lovato Shares Backstory Behind 'HOLY FVCK' & Answers a Question from Lizzo
Discussing the explicit name of their album with Sirius XM last year, Demi said: "I remember being the one asking questions, like, 'Am I gonna be able to say this? And what do I say instead?' And it's just like, look, it's f–king rock n' roll. They'll bleep you if they need to and, like, if they don't, even better."
As it stands, Demi is yet to respond to ban. We shall update you if they do.
Glass Onion Cast Take On A Chaotic Mystery Interview | PopBuzz Meets