Demi Lovato's ex fiancé Max Ehrich says she's letting fans bully him following split
28 September 2020, 11:42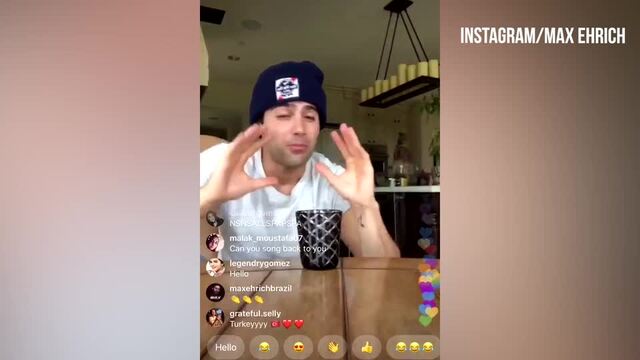 Max Ehrich says he loves Selena Gomez in Instagram Live
Max Ehrich has posted multiple Instagram stories dissing Demi Lovato in the wake of their break up.
Max Ehrich claims that he only found out about Demi Lovato breaking up with him alongside everyone else when the news broke and he's now taken to Instagram to accuse Demi of letting her fans bully him.
Last week (Sep 24), People reported that Demi Lovato and Max Ehrich had split after getting engaged in July this year. While the publication didn't explain why the couple had decided to end things, the news came soon after fans had discovered that Max had posted many videos and tweets thirsting over Selena Gomez in the past. He even referred to Selena as his "wife".
READ MORE: Demi Lovato defends Max Ehrich following backlash over Selena Gomez comments
Now, Max has claimed that he only found out about Demi leaving him via a "tabloid" and insulted her via a series of Instagram stories.
Yesterday (Sep 27), Max took to Instagram stories to blast Demi. He wrote: "I was on the set of my new movie, SOUTHERN GOSPEL, with crew and cast members right next to me who literally watched me open my phone where I then opened a tabloid."
He continued: "This is the God's honest truth of how I found out about the ending of the engagement and have people from my film who saw the whole thing go down and helped me get back into character to continue my job. I had cast and crew with families relying on me to do my job.
That being said, please end this narrative and focus on the more important issues in the world. I love and forgive everyone involved. Let us be. Let us heal. God bless."
Max didn't end the narrative there. He then posted another story writing: "I entered the acting industry when I was 15 because I've been in theatre since the age of 4 with a huge relentless passion for the craft of acting and music. Hence why I have had the honor of receiving 4 nominations from the Emmy Academy and on a Spielberg series.
I finally am starring in a film that has a great morals. I am not interested in attention; I'm interested in doing my art. Please leave me be and let me focus on my film!!!!! God bless."
In another story, Max took direct shots at Demi by writing: "If you're going to preach about anti-bullying - Why would you allow someone you love(d) to be bullied by your fans? For what...? Telling the truth?"
He then posted a screenshot of a text he sent Demi in which he wrote: "To find out over the internet was beyond anything I could've ever imagine a person could do to another human." He also wrote the caption: "Leave me alone!"
Max deleted his Twitter account on Sep 12 right after fans discovered his old Selena Gomez tweets and videos. Shortly after his and Demi's breakup was announced, Max blocked all comments on his Instagram account too.
As it stands, Demi has left Max alone. She hasn't publicly commented on the breakup at all. She's just unfollowed Max on Instagram and a source has told People that Max was aware of the split before the news broke.