Demi Lovato defends Max Ehrich following backlash over Selena Gomez comments
14 September 2020, 12:36 | Updated: 14 September 2020, 12:47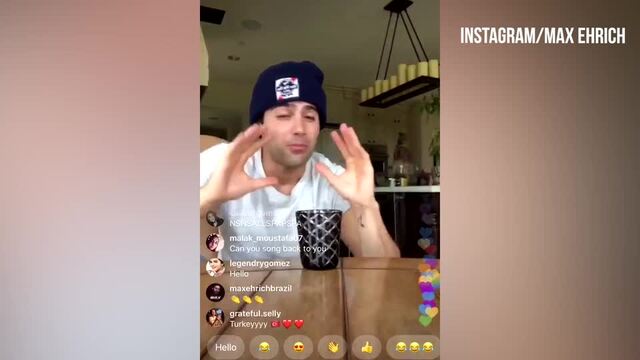 Max Ehrich says he loves Selena Gomez in Instagram Live
#MaxEhrichIsOverParty began trending on Twitter after an array of his old tweets and Instagram videos resurfaced.
Demi Lovato's fiancé Max Ehrich is coming under fire after videos and tweets of him thirsting over Selena Gomez went viral.
Demi Lovato and Max Ehrich started dating earlier this year and officially went public in May. Max is an actor and singer best known for his work in The Young and the Restless. In July, Max and Demi got engaged. In an Instagram post, Demi wrote: "I love you more than a caption could express but I'm ecstatic to start a family and life with you. I love you forever my baby."
READ MORE: Demi Lovato says she's no longer friends with Selena Gomez
Now, Max is being called out over a series of comments surrounding Demi, Selena Gomez and other female celebrities.
Over the weekend, numerous alleged screenshots of Max Ehrich tweets went viral in which he writes about Selena. In one of them from 2010, he allegedly wrote: "Hahaha selena gomez and demi are cute together but boy if you think demi is prettier.. you're WRONG". Max also allegedly wrote "MARRY ME NOW" in the comments of a 2018 Selena Instagram Live video.
On top of that, fans also shared screenshots of Max allegedly interacting with a Selena Max fan page on Instagram. Not to mention, one of Max's old Instagram Live's went viral in which he says: "I've actually had a major crush on her since 2010. Obviously, I put it out on Twitter. I think Selena Gomez is an extraordinary woman. She's an angel and I love her."
People also accused Max of being a "clout chaser" after finding out that he allegedly made similar comments about stars including Ariana Grande, Miley Cyrus and Bella Hadid.
Shortly afterwards, #MaxEhrichIsOverParty began trending on Twitter and Max deactivated his account.
Demi Lovato's fiancé, Max Ehrich, is currently being critisized by fans after his old tweets and comments concerning Selena Gomez have resurfaced on the internet. pic.twitter.com/D7ENJMd9sq

— Pop Tingz (@ThePopTingz) September 12, 2020
Now, Demi has taken to her Instagram Stories to address the backlash surrounding her fiancé and she has accused people of doctoring screenshots to stir up drama. She wrote: "It's really sad when people FAKE images to pit women against each other. If women have conflict that's between them NOT YOU."
Demi added: "Secondly, don't y'all have more important shit to write about in 2020??? I challenge any tabloid that dares to type my name to mention Breonna Taylor and the fact that her murderers still haven't been arrested. WRITE ABOUT THAT."
Demi Lovato asks fans to stop pitting female artists against one another in new Instagram story:

"It's really sad when people fake images to put women against one another....don't y'all have more important sh*t to write about in 2020?" pic.twitter.com/sWaD3t82o7

— Pop Crave (@PopCrave) September 14, 2020
Max hasn't directly commented on the tweets but, as well as deactivating his Twitter account, he has disabled comments on his Instagram page. Max has also posted a bible verse on Instagram that reads: "The Lord bless you and keep you, the Lord make his face shine on you... and give you peace."
Max also posted a link to the Black Lives Matter website on his Instagram Stories.