Demi Lovato says she's no longer friends with Selena Gomez
15 April 2020, 11:33 | Updated: 15 April 2020, 11:35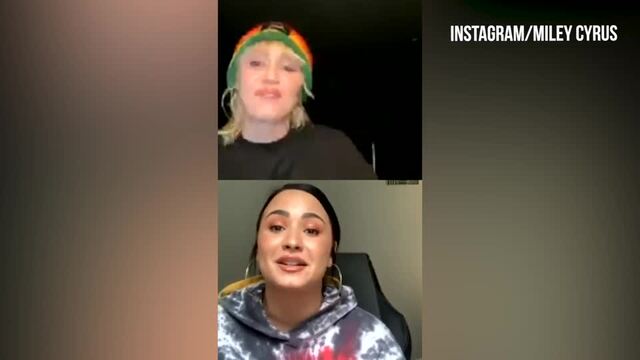 Miley Cyrus and Demi Lovato put "petty drama" behind them in emotional Instagram Live
Demi Lovato also said that she doesn't speak to the Jonas Brothers anymore and Miley Cyrus is the only star who she's still close with from her Disney days.
Demi Lovato has opened up about her celebrity friendships and falling out with both Selena Gomez and the Jonas Brothers.
Fans of Demi Lovato will already know that she and Selena Gomez used to be BFFs. The two stars not only acted in multiple Disney projects together, as well as Barney, but they also regularly uploaded YouTube videos with each other and hung out off-screen. Demi also became close with fellow Disney stars, the Jonas Brothers and Miley Cyrus. at the same time.
READ MORE: Demi Lovato says her old manager used to "control" what she ate
Demi, Selena, Miley and the Jonas Brothers have drifted apart since then but they all appeared to be on good terms, in spite of their friendship changing. However, Demi has now stated outright that she's not friends with Selena or the Jonas Brothers.
Demi and Selena previously appeared to fall out after Selena became close with Taylor Swift. However, since then, Demi and Selena have reunited, referred to each other as family in interviews and were pictured hugging at the InStyle Awards in 2017. Demi and Taylor also made amends in 2019 after Demi praised Taylor's song 'Cruel Summer' on her Instagram stories.
In February, Selena took to Instagram stories to praise Demi's performance of 'Anyone' at the Grammy Awards. She wrote: "I wish there were words to describe how beautiful, inspirational and DESERVED this moment was. Demi I'm so happy for you. Thank you for your courage and bravery." Demi didn't respond to the story but all seemed good between them.
When asked about Selena's comments in an interview with Harper's Bazaar, Demi said: "When you grow up with somebody, you're always going to have love for them. But I'm not friends with her, so it felt…" Demi didn't say how it felt but she then continued to say: "I will always have love for her, and I wish everybody nothing but the best." What happened?!
Demi Lovato and Selena Gomez answer fan questions about their friendship
Demi also confirmed that she's no longer in contact with the Jonas Brothers at all when asked about them. She said: "I talk to Miley. She's awesome, and I love her to death and always will, always have. But I think she's kind of the only one from that era that I still stay in touch with." Demi recently reunited with Miley on Instagram Live.
READ MORE: QUIZ: Can we guess your age based on your Disney Channel tastes?
So, unfortunately, it looks like we won't be seeing Demi and Selena or Demi and the Jonas Brothers reunite anytime soon. Obviously friendships change with time but our Disney hearts remain broken. Maybe Miley can get them to all reunite on Zoom or something. All we want is for our faves to be happy and friends again.