15 Interesting Things About Ed Sheeran That You Probably Didn't Know
11 January 2017, 15:42 | Updated: 8 May 2017, 17:09
Teddy's back from his gap year and he's brought some bangers with him!
Ed Sheeran is known the world over as everyone's favourite ginger. He doesn't really get involved in any of that fame drama either. A real likeable lad. He always dresses like that guy you went to prom with in high school, looks like he'd never hurt a fly, and he's not exactly what you'd call the edgiest of characters.
We were determined to prove, though, that Ed Sheeran is an interesting guy so we compiled a list of the most interesting things about our main man Ed.

1) He names his guitars. These names include Lloyd, Felix, Cyril, and Nigel.

2) Ed's video for Lego House features an equally red haired Rupert Grint as an obsessed fan. Despite being actual Ron Weasley, Grint often gets mistaken for Sheeran.

3) Nearly all of Ed's tattoos have something to do with his career. He's got a Lego head, the word 'Bloodstream' and tat honouring his first single, 'A-Team'.
via instagram.com
4) He's even got a tattoo of the logo for The Fresh Prince of Bel Air on his arm because it's his fave show.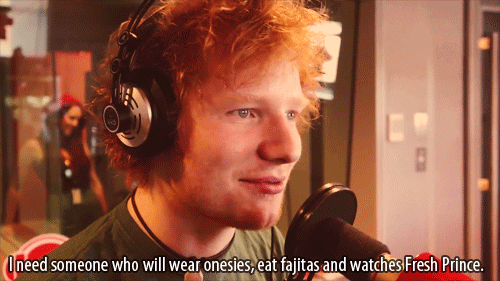 via giphy.com

5) AND he's got the name of Taylor Swift's album RED tattooed onto his arm. He toured as her support act on the North American leg of the tour.
via giphy.com


6) In fact, Ed has over 100 tattoos including a ketchup bottle and the words 'your name' on his left arm.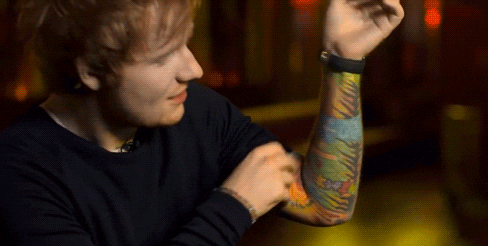 via giphy.com


7) Ed wrote 'Don't' about Ellie Goulding and Niall Horan hooking up behind his back.
8) The music video for 'The A-Team' only cost him £20. Bargain.

9) Ed Sheeran removed all the explicit lyrics from X so his cab driver's daughter could listen to it.
My whole album is clean, I took all of the explicit lyrics out after a taxi driver convinced me to do it for his daughter. That's the truth

— Ed Sheeran (@edsheeran) June 12, 2014
10) GQ Voted Ed the 'Worst Dressed Man of 2012'.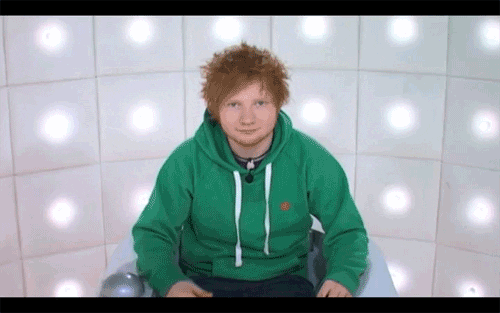 via youtube.com

11) Ed Sheeran has written four songs for One Direction. There's 'Little Things', 'Moments', 'Over Again' and '18'.
via giphy.com


12) And he even wrote a song for Hilary Duff called... you guessed it, Tattoo - but it was unreleased.
via instagram


13) He's friends with actual real life Monica Geller from Friends, Courteney Cox. He once lived in her house in Malibu rent-free.
via instagram

14) The first concert he ever went to was Green Day at Wembley Arena.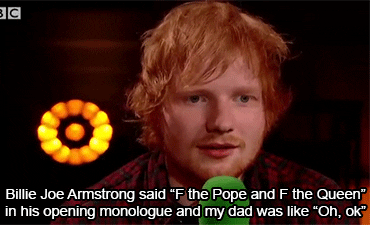 via giphy.com

15) He's got an official Nando's sauce named after him.
via twitter.com

The more you know...
via giphy.com