Ed Sheeran's 'Galway Girl' Is The Best Song He's Ever Written & You Know It
6 March 2017, 13:44 | Updated: 8 May 2017, 17:09
Already a meme, the best song on 'Divide' has been somewhat, um, divisive...
You might not have noticed due to a lack of promotion, but apparently Ed Sheeran has a new album out at the moment!
Giphy: Ed Sheeran
I know right - kept that one quiet didn't he!
But among the reportedly insane levels of record sales (230,000 physical copies in 24 hours alone) and the multitude of weep-inducing acoustic ballads you'd expect from a Sheeran album, a debate is raging online over one particular Divide track that takes everything you'd expect out of Ed and throws it through the nearest bar window and out onto Grafton Street to fend for itself, replacing it with Irish-flavoured ceilidh reels and enough Celtic passion to make Louis Walsh jump out of his seat and squeal "You remind me of a young Lenny Henry if he was white and Irish".
It is, of course, the acoustic-jig-rap number known simply as 'Galway Girl'.
And it's safe to say that reaction has been somewhat "mixed".
In fact, depending who you ask, Ed's ode to a mystery woman who is a talented darts and pool player (as well as possibly suffering from a drinking problem) is either too Irish or not Irish enough, despite being a collab of sorts with the trad folk band Beoga.
Ed sheerans "Galway girl" is something else

— Niämh (@niamhbailey3) March 5, 2017
Why listen to Ed Sheeran's 'Galway Girl' when you can just puncture a vital artery with a fork?!

— Ryan Cullen (@RyanCullen90) March 5, 2017
Ed Sheerans Galway girl feels like cultural appropriation, even though he's got Irish blood. Achievement unlocked Ed.

— Rubber Bandits (@Rubberbandits) March 5, 2017
when the chorus of galway girl kicks in on the new @edsheeran album pic.twitter.com/Qu5NmfyJvm

— ross buchanan (@rossy) March 4, 2017
I just listened to Ed Sheeran's Galway Girl for the 1st time but it was hard to hear over the sound of my ancestors turning in their graves

— Pam (@PamAndHerMemes) March 3, 2017
But, despite the criticism, the track shot up the iTunes chart worldwide, even hitting Number 1 in a few countries including, you guessed it, Ireland.
Ed himself has already spoken about the business strategy behind the track, the label initially pushing against its release before he convinced them that there were millions of people who identify as Irish in the world that would get behind this update on their traditional sounds.
Giphy: NBC, Universal
Because what those complaining about its cultural credentials haven't realised is that this is not attempting to provide a soundtrack for hard-edged Dubliners feeling homesick. This is for the group of girls who decide to paint four leaf clovers on their cheeks before they hit a traffic light party. It's Ireland packaged up for the mass market like a potato scone from Tesco or Colin Farrell.
Don't get me wrong, as a man who has spent many summers in Edinburgh accosted by American tourists convinced that I must be best friends with Shrek, I can appreciate how this tea towel tourism might be annoying. But there's a bigger reason behind the track's success than just heritage and nostalgia that we have to acknowledge...
'Galway Girl' is, undoubtedly, a solid gold banger and the best song Ed's ever put out.
Giphy: youre-my-oneandonly.tumblr.com
There, I said it.
From the glorious string breakdown to the cut-up orchestral beats, the chantable final vocal refrain and the sheer ridiculousness of rapping about Doritos in the third verse, this song is unashamedly cheesy and all the more glorious for it. Whether at a school disco, Fresher's Week welcome party or bar mitzvah, we can now file this song alongside the 'Grease Megamix', 'Dancing Queen' and 'Mr Brightside' as a sure-fire end of the night floor filler. 'Thinking Out Loud' might still be the wedding 'first dance' of choice but what is the DJ gonna drop at 11.30 when the stags and hens are all in tears and Uncle Ted's wrapped his tie around his head for some reason? Only Sheeran will suffice.
And if you don't believe me, just wait a couple of weeks.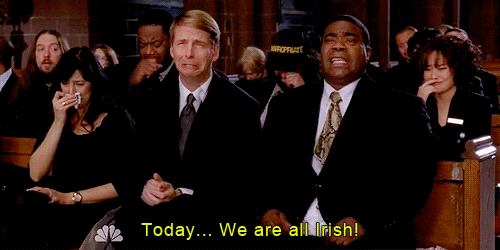 Giphy: NBC, Universal
Friday 17th March 2017 sees the annual celebration of all things Irish, St Patrick's Day: a magical 24 hours where both beer and milkshakes turn a nuclear shade of artificial green; office perverts everywhere wear a "Kiss Me I'm Irish" button on their work shirt in a desperate attempt to stave off loneliness; and local nightclub's will widely publicise (and quickly cancel) a contest where if you catch a 'leprechaun' and return him to the nearest barman, you can claim the contents of their 'pot of gold' (free bucket of Corona, strictly one bucket per group). These are the recognised traditions around the world, unwavering over many decades.
Giphy: Brit Awards
But we can now add one more ritual to the list as on that night, at every student pub crawl, packed out bar and village parade, 'Galway Girl' will be played at least three times in a row, each spin greeted with huge cheers, enthusiastic singalongs and an inevitable bout of poorly choreographed Riverdancing, resulting in at least four people falling over. Everybody will smile and go out into the night belting the chorus up at the stars in unison. And for one glorious moment (just after closing time, just before someone throws up on your shoe) all will be right with the world. Don't we all deserve that kind of carefree happiness?
Sneer if you want to but the rise of 'Galway Girl' is all but inevitable. So you could keep complaining or you can grab the whiskey and spin around the room like Rose below deck.
I suggest the latter.