Ed Sheeran Has Broken His Arm After Being 'Hit By A Car While Riding His Bike'
16 October 2017, 14:37
Ed was hit by a car while riding his bike through London.
According to various reports, Ed Sheeran has been hit by a car while riding his bike in London and taken to hospital in an ambulance.
Earlier today (Oct 16), Ed's friend Smallzy, a DJ on Nova Radio in Australia, took to Twitter to let his followers know that Ed had been knocked off his bike. "Hope what I'm hearing isn't true. Sources in LDN @edsheeran telling me he's been hit by a car while riding a bike.. Sending healing vibes"
Ed later confirmed the news by posting a picture to his Instagram with his right arm in a cast and his left arm in a sling.
He captioned the pic: "I've had a bit of a bicycle accident and I'm currently waiting on some medical advice, which may affect some of my upcoming shows. Please stay tuned for further news. Ed x"
It's unknown whether he has broken his arm or if he has suffered a minor fracture but he's let fans know that the injury might affect the Asian leg of his world tour that's scheduled to kick off in Taipei on October 22. Other dates in South Korea, Japan, Hong Kong, the Phillipines, Indonesia and Singapore may also have to be rescheduled.
Get well soon, Ed! Can we sign your cast please?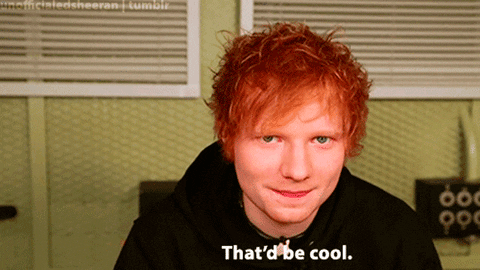 via giphy.com