Here's The Most Expensive FOB, Paramore & The 1975 Merch You Can't Afford
1 August 2016, 10:11 | Updated: 8 May 2017, 17:09
A Paramore map and suitcase? A FOB skateboard? HOW MUCH?!?!?
We've all been there haven't we? You wait for months to see your favourite band live and, as you rush towards the barrier, your eye catches a glimpse of something shiny at the merch stand. And that's when your wallet gets emptied in seconds.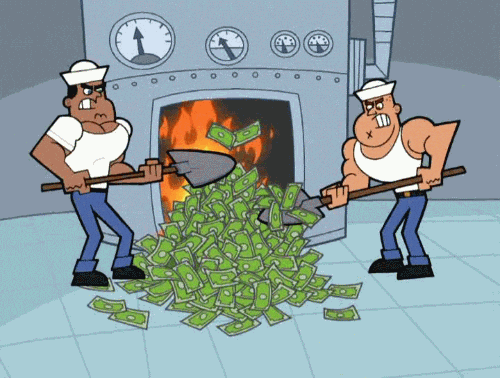 Reddit
You'll be walking home because an Uber is suddenly unaffordable.
Yes, every band has that one item that is so desirable but so expensive. So, we thought we'd look at some of the higher end items on the merch table and see if they really are worth the money.
Fall Out Boy
Custom Black Cruiser Deck: $149.99
Fall Out Boy
Is it worth it?: We don't even know how to skateboard and yet we somehow need this in our lives. If nothing else it will look fantastic hanging from our bedroom wall. And is that a Batman symbol we spy in the corner? FOB even make Batfleck seem cool.
Paramore
Map Trunk 2 Suitcases: $100
Paramore
Is it worth it?: Possibly the weirdest piece of pop punk merch available online, Paramore's lyrics "We Cross The World While It's Asleep" are displayed on a rustic map and presented in two suitcases designed in the style of a prop from Disney World's "Pirates Of The Caribbean" ride. Nice but…why?
5SOS
Crewneck Sweatshirt: $65
5SOS
Is it worth it?: Ok so 65 bucks is not the MOST expensive item we've seen but come on – a glorified t-shirt for that much? That just seems unfair boys! Does it light up? Do you never have to wash it? Can it clear our skin and solve the debt crisis? We need a little more input or we're just gonna buy the standard shirt for $28.
Twenty One Pilots
Ukele: $125
Twenty One pilots
Is it worth it?: Only 4000 of these beauties have been made available and, given that they feature the band logo and a pattern from the album artwork on the body of the instrument, it would make the perfect gift for any struggling musician you know out there. If they can't learn "House Of Gold" on this then they never will.
The 1975
ILIWYSFYASBYSUOI Box Set: $124.75
The 1975
Is it worth it?: Like all their merch items, it is very pretty to look at and would sit well on any bookshelf, coffee table or dormroom floor. But, as much as we adore the album, we don't really need a digital, vinyl and CD copy. Maybe just get the cheaper option of the clear vinyl set at a more reasonable price of $38.75.
Selena Gomez
Revival Patches Jean Shorts: $125
Selena Gomez
Is it worth it?: I mean, I could spend $125 dollars on a pair of ripped jean short...but why would I want to? Plus these just remind us way too much of Tobias from Arrested Development and we don't want to end up getting mistaken for a never nude.
Justin Bieber
Marilyn Manson T-shirt: $195
Justin Bieber
Is it worth it?: Of course not.
Any more expensive items you've spotted at a show? Let us know.