These Insane Throwback Magazine Covers Will Make You Nostalgic AF
17 February 2016, 17:04 | Updated: 8 May 2017, 17:09
Apparently Pete Wentz was the hottest cover model in the '00s!
Here's a little bit of nostalgia that will definitely make your entire day (or ruin, maybe)! We were thinking... magazine covers just aren't what they used to be, are they? Long gone or are the days of bubble fonts and the promise of free ~*GlOsSy PoStErS*~ so we decided to take a look back at the glory days, featuring all the usual PopBuzz suspects. Are you ready? Let's go back in time.
1) Pete Wentz on J-14
Pete had an ENTIRE J-14 issue dedicated to him in 2009 once. The issue includes exclusive playlists, nose picking sagas, dork woes and step by step eyeliner tips (obvz). Shout out to that "How Emo Are You?" quiz! Anyone got a clipping of the flowchart so we can all take it together?
J-14 Magazine
2) "Boy Crazy" on J-14
This issue had EVERYTHING... There's Gerard Way - or 'G' as he likes to be known at J-14 HQ - there's Ryan and there's Pete, again. Oh and you can "Win A Date With A Jonas Brother?" - what more could you ask for?! (SIDENOTE: Hannah Montana season 2 shockers? Wonder if J-14 could have predicted the shockers we all saw in 2015.)
J-14 Magazine
3) Fall Out Boy on Blender Magazine
23 Reasons Why 2009 Will Not Suck: Smol bb Patrick's sideburns and Pete Wentz's cool pants.
Blender Magazine
4) Hayley Williams on Sugar Magazine
Hayley looks SUPER CUTE and she's here to let us all know that no boy is worth it. We got seriously distracted by that 'I'm Part Dog' headline though... can't get that kind of quality content anywhere these days.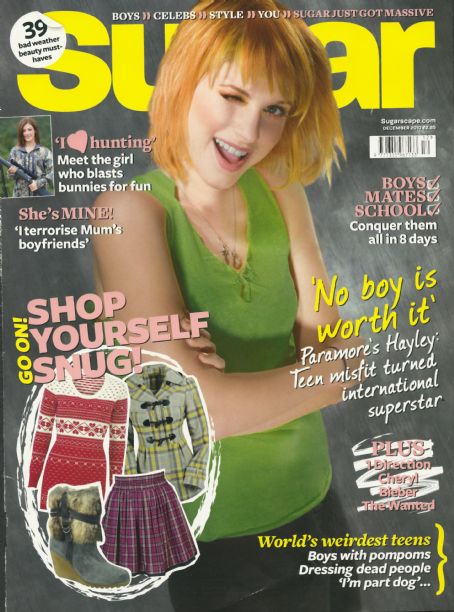 Sugar Magazine
5) Panic! At The Disco on Spin Magazine
HOLY EYELINER, BATMAN! Is it us or does anyone else seem to be detecting a lil' touch of unintentional shady shade on this Spin cover ft. Brendon's incredible jazz hands. We mean, isn't it obvious how they became rock's hottest new band?! Two words: Shirtless. Brendon.
Spin Magazine
6) Avril Lavigne on Faze Magazine
2002 AVRIL! Thank you Canada for bringing this gem of a cover into the world. And yes, we are DEFINITELY going to be entering the competition to win that state of the art mobile cellular device. Stand by for our entry.
Faze Magazine
7) My Chemical Romance on Blender Magazine
WHEN I WAS A YOUNG BOY MY FATHER TOOK ME INTO THE CITY TO SEE A MARCHING BAND. *single tear*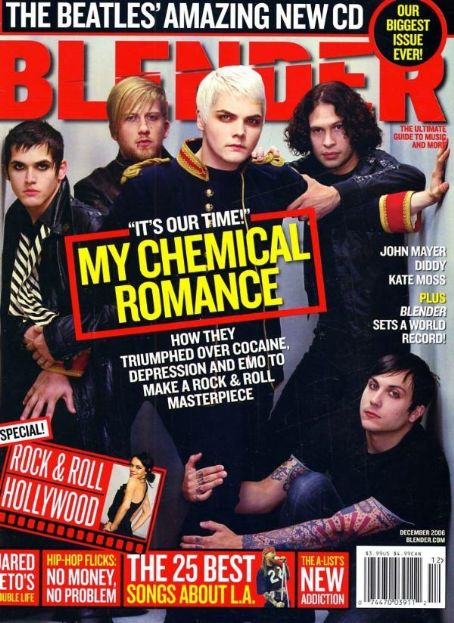 Blender Magazine
8) Green Day on Spin Magazine
This is Billie Joe Armstrong in 1994 with blue hair. You're welcome.
Spin Magazine
9) Jonas Brothers on People Magazine
150 FAB PICS?! And honestly, there's no magazine out there today that could deliver a poster of all three JoBros on multicoloured Vespas, is there? Wow, 2008 was such a blessed year. Also, fun fact: Joe Jonas' hair style was the most popular haircut amongst teen girls around the time.
People Magazine
10) Pete Wentz on Cosmo Girl
ANOTHER COVER?! Could Pete Wentz be on track to be America's Next Top Cover Girl? Because no matter where you look, the 00s were truly the decade of the Wentz.
Cosmo Girl
BONUS: An ancient relic from the pages of Tiger Beat magazine. BEHOLD THE FLOWCHART!
Let us know which band you'll be fronting in the comments!
Tiger Beat