Pete Wentz's DCD2: Meet All The Acts Signed To The FOB Man's Record Label
29 January 2018, 15:45 | Updated: 30 January 2018, 09:36
From nothing.nowhere. to Travie McCoy, here's all the musicians that Pete is currently looking after on his personal label.
Image Credit: DCD2, Tommaso Boddi / Stringer (Getty)
Pete Wentz has always been something of an enigma in the pop punk world, following his 'Thriller' collaborator Jay Z's mantra of "I'm not a businessman - I'm a business, man!". He, of course, famously kick started the career of Panic! At The Disco (who we have been known to occasionally write about), signing them up to his Fueled By Ramen funded label Decaydance. But what about all the other faves he's signed up since the label's relaunch as DCD2 a couple of years ago? Let's take a closer look at the acts Pete is currently nurturing.
1) MAX
DCD2 Records
Maxwell George Schneider signed to the label in early 2015 and his dark, Weeknd-esque dirty soul is something of a departure for the brand but no less enjoyable for it. Having grown up as a child of Broadway, in the original cast of 13 alongside Ariana Grande, Max later moved into songwriting for children's television via Nickelodeon before releasing his own Kickstarter funded album NWL. He accompanied FOB and Wiz Khalifa across the US on their "Boyz Of Zummer Tour" and dropped his second album, Hell's Kitchen Angel, in 2016.
2) New Politics
DCD2 Records
Chances are you already know these guys, either through their cameo heavy video for "West End Kids", their support slots on the "Save Rock 'n' Roll Tour" or the now infamous dance battle between frontman David Boyd and his label boss Pete. Originally from Denmark, their 2015 album Vikings showcases their chirpy brand of upbeat, 80s-infused guitar power-pop. Their most recent album, Lost In Translation, was released in October 2017.
(NOTE - while they have recently disappeared from the DCD2 website, we've not yet heard any word that they have left the label. We will update you further as we get more info).
3) Travie McCoy
DCD2 Records
Another familiar name, Travie was formerly the front man of Decaydance act Gym Class Heroes before striking out on his own with debut album Lazarus in 2010, lead single "Billionaire" becoming a huge radio hit thanks in no small part to the presence of the ever-ubiquitous hat-bothering Michael Jackson impersonator Bruno Mars. Since then, he has dropped a handful of ear-wormy singles and has recently reteamed with his old group and will be popping up for select dates on the MANIA tour with FOB later this summer.
4) nothing. nowhere.
DCD2 Records
Pete's most recent signing, nothing. nowhere. is the stage name of Joe Mulherin, an 'emo-rapper' who began his career on Soundcloud before releasing his (very good) album Reaper in October 2017. It featured appearances by Dashboard Confessional and Lil West and he will soon be seen on tour with FOB across the US this summer. He has also become known for his distinctive visual style and make up that has set him apart from his contemporaries.
And that's about it.
Oh, well, there's also this fella...
5) Panic! At The Disco
DCD2 Records
Not to mention this lot...
6) Fall Out Boy
DCD2 Records
Never really heard of them. Seem ok.
What do you think of Pete's label acts guys? Any faves? Let us know over in the Facebook comments.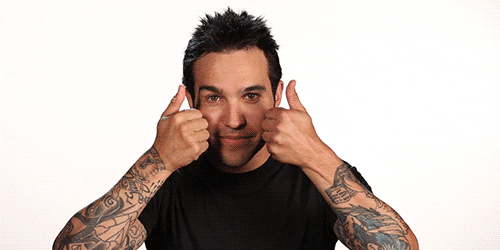 OXYGENMEDIA.TUMBLR.COM