This Pete Wentz Fan Is Turning Her 'Emo Diary' Into An Actual Business
8 May 2017, 15:27 | Updated: 8 May 2017, 17:09
We chat to writer Marianne Eloise about turning her emo teenage years into an actual published piece of writing.
We've all got them - those diaries and journals packed full of the innermost thoughts of our younger, more emo selves. Love letters to Pete Wentz. Gig ticket stubs delicately taped to the pages. Hand drawn tributes to the Madden brothers. These images should sound pretty familiar to anyone who spent their teenage years plastering on the guyliner and lip syncing to 'I Write Sins...' in their bedroom.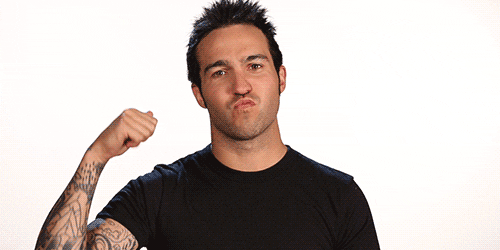 Giphy
But writer and journalist Marianne Eloise decided her diaries shouldn't be left to gather dust under her bed and began to share them with the world via the hilarious Twitter account @emodiary05.
17/08/06 ben puts lying is the most fun a girl can have without taking her clothes off on and smiles at me

— emo diary (@emodiary05) March 13, 2017
03/07/05 i just watched live8 and its emotional. gc played in tokyo and i want to do something like that one day.

— emo diary (@emodiary05) May 2, 2017
me whenever anyone calls me emo even though i call myself emo every single day pic.twitter.com/PSB81KJm28

— emo diary (@emodiary05) April 27, 2017
Club nights and magazine spreads followed and, as if that wasn't enough, Marianne has now published some of her finest emo musings in her new 'Emo Diary' zine, full of MSN messenger screenshots, epic essay extracts and fan art worthy of any Tumblr profile.
Emo Diary
We caught up with Marianne to chat about all things emo, her undying love for Pete Wentz and listening to From Under The Cork Tree on a daily basis for 12 years. Plus, we ask the ultimate question - can she choose her fave track and album by each of the members of the emo holy trinity?
Grab your own copy of the zine here and follow Marianne on Twitter here.
Listen to our full chat about all things 'Emo Diary' in the interview below: