Fall Out Boy's Andy Hurley Starts A Hardcore Vegan Punk Supergroup (Yes, Really)
30 June 2016, 16:26 | Updated: 8 May 2017, 17:09
Listen now to Andy's latest FOB side project...
Andy Hurley, the drummer with Chicago's finest pop punk outfit Fall Out Boy, always likes to keep himself busy. So, not content with being a part of a stadium-straddling rock band and appearing in his own Zombie comic, Andy has now started what can only be described as a hardcore, vegan punk supergroup.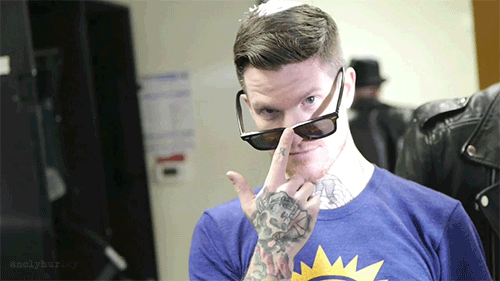 Wiffle Gif
Noisey spoke to Sect, which also features members of the bands Earth Crisis and Catharsis, who have just dropped three debut tracks in anticipation of a full album.
Chuck Johnson
The whole project is fronted by Chris Colohan on vocals who is not only Vegan but runs a business known as Vegan Magic that develops cooking products and sauces. Andy meanwhile has talked openly about his veganism for years, even occasionally partnering with PETA to promote the cause.
So, what does the band actually sound like? Heavy AF that's what. Pop punk this ain't - this is a whole new direction for our little FOB drummer boy.
Check out "Scourge Of Empire" by Sect below. Their album is released on July 29th.