Fall Out Boy Are Teasing Something Big And We NEED Details!
26 August 2016, 12:28 | Updated: 8 May 2017, 17:09
What is this "bloom" thing all about boys?
As they prepare to headline Reading and Leeds festivals this weekend, Fall Out Boy may be up to something...
A few weeks ago, some eagle-eyed Reddit users spotted this cryptic message:
Reddit
This was later accompanied by references to "Bloom" on Pete's Snapchat and Twitter account.
BLOOM

— peteachu (@petewentz) August 10, 2016
Well the intrigue has now kicked up a whole new level...
Last night (August 26th) FOB played the Tennent's Vital festival in Belfast and debuted a brand new band uniform with one very important word on the pocket.
8.25.16 Belfast, Ireland @ Tennent's Vital Festival pic.twitter.com/yeHunrHGlB

— Fall Out Boy (@falloutboy) August 25, 2016
Need a closer look?
What does it all mean?!?!
Pete even got himself a new bass guitar for the occasion.
Is that related too? We need answers boys!
Is "bloom" a reference to the lyrics in "Centuries"? Is there a part two of AB/AP? Or a whole new project altogether? We'll bring you news when we get it.
What do you guys think "bloom" is all about? Let us know below.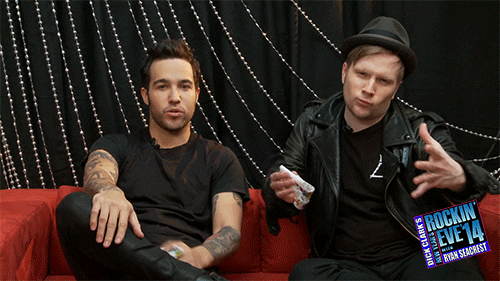 New Year's Rockin' Eve