WATCH: Pete Wentz Reveals Meaning Behind FOB's Secret Project In Emotional Snapchat
27 August 2016, 11:24 | Updated: 8 May 2017, 17:09
He spilled all the details behind "Bloom" and y'all, it's so inspiring.
After a couple of weeks of speculation, Pete Wentz finally just revealed the details of Fall Out Boy's secret project "Bloom" on his very own Snapchat and we're BEYOND excited.
If you didn't manage to catch it the first time around, you can watch the entire story below:
video via @talishabelle

So, it turns out that "Bloom" was an idea that the band thought of at the end of their recent "Wintour" tour. It's an inspirational project, helping fans with their self esteem, self confidence and inspiring those in need.
"We wanted to do something that was kind of compelling and experiential where there was stuff to wear and stuff to look at and stuff to experience but most importantly I wanted to tell a narrative that sometimes the hard shit you go through makes you stronger and carves you into somebody stronger."

Pete Wentz

He continued: "And you guys inspire us and so we wanted to do something that was inspiring and uplifting and hopefully resonates."

The band have designed a brand new live show for the project and the short film will be making its way to our screens real soon. The visuals already look mind-blowing.
Fall out boy and bloom and fire and dancers and Water Buffaloes and Leeds Festival at barrier though. pic.twitter.com/VJhm5cwkVj

— Louise Kelly (@loubielou_2) August 26, 2016
The merchandise that they've been wearing on stage will also be available to purchase.
fall out boy's new "bloom" merch is amazing, especially this tshirt pic.twitter.com/VOoHXeYLqo

— lucy (@lossayyy) August 26, 2016
He ended the snaps by saying: "The hard shit that you go through doesn't have to break you. It can carve you and you can create something beautiful from that."
Daaamn, Pete! Y u gotta be so inspiration and amazing all the time?

PETER! WHEN I OPENED YOUR SNAPCHAT STORY I DID NOT PLAN ON CRYING, YOU'RE BEAUTIFUL AND I AM NOW EMOTIONAL I LOVE YOU @petewentz

— Spøøkyblackerystickz (@azzyskyekendall) August 26, 2016
@petewentz your snapchat story is so encouraging. I appreciate you so much. I can't wait for #bloom

— Princess of Monaco (@samiicordeiro) August 26, 2016
@petewentz hey Pete I just saw ur snapchat story and I'm literally crying because as someone with mental illness u inspire me sm <3 thnk u

— .:micah:. (@LiteralDad) August 26, 2016
@petewentz you got me crying over your snapchat story thanks for always being an inspiration

— laura (@lauraalcd) August 27, 2016
No word yet on whether new music or maybe even a new album will be dropped but either way, we can't wait to see this project inspire a whole bunch of people! Good work, FOB!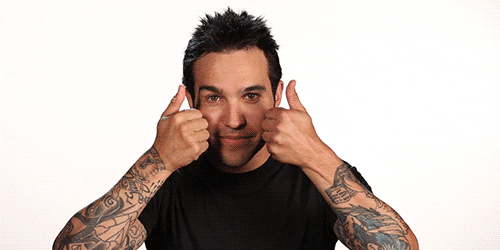 via giphy.com