Wait...Did Fall Out Boy Just Film A Secret New Music Video?
10 April 2017, 10:42 | Updated: 8 May 2017, 17:09
Fans may have spotted Pete, Patrick, Joe and Andy working on a new project for later this year.
Brace yourself FOB fans - your boys may be back with new music sooner than you think!
Several fans have posted information online claiming that Fall Out Boy were spotted on Venice Beach this past weekend (April 8th) filming a new music video.
.@falloutboy I mean, it's for real but if you need additional evidence~

WELCOME. IT'S (almost) HERE. pic.twitter.com/Xe6LWBJFty

— Don't Bore Us (@DontBoreUs) April 9, 2017
As the messages state, a group of fans were approached to appear in the 'new Fall Out Boy video' by a film crew, with the beach-side location appearing to match up with where Pete Wentz was posting from on Snapchat.
So, we've got these messages and screenshots - but is there any other evidence to back up this music video claim?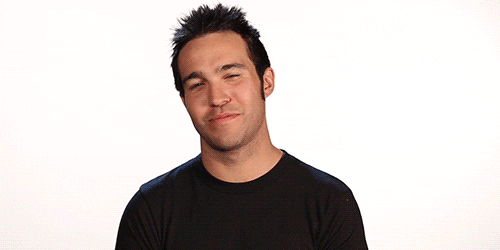 Giphy
Um...no.
But the people over at Don't Bore Us certainly seem convinced it's real, having checked with a few sources to clarify its legitimacy. Plus, a surprise return would hardly be out of the ordinary for Fall Out Boy, their concert-intro film Bloom having been shot in secret prior to their summer festival tour in 2016. The Chicago band's last album American Beauty/American Psycho was released in early 2015 so a new record later this year would not be out of the question.
Either way, the fans are already seriously hyped for the return of their heroes:
fall out boy filmed a new music video. Im- pic.twitter.com/J1ZLvCy8cW

— moose @jaredsxhair) April 10, 2017
A NEW FALL OUT BOY VIDEO IS COMING I REPEAT A NEW FALL OUT BOY VIDEO IS COMING I AM TYPING THIS FROM THE AFTERLIFE

— gale (@fueledbynuggets) April 10, 2017
Twitter: "Fall Out Boy filmed a new music video"
Me: pic.twitter.com/v2Sv7Q0cHg

— Becca (@PerfectlyUnwell) April 9, 2017
Rumours of new Fall Out Boy music / a video being filmed are swirling around and OH LORD PLEASE I DON'T KNOW HOW ELSE TO GET THROUGH 2017 pic.twitter.com/g8NEOcDX8k

— Del on Earth (@disloyal__order) April 9, 2017
So @falloutboy filmed a new video. Interesting. pic.twitter.com/ZO0Kpi94Zi

— Avalee Long (@KumoriRaven) April 10, 2017
Basically we are hopeful, but don't get too excited until Pete starts sending out cryptic arty images. That's when you know something is brewing...
Are you excited for the return of FOB? Let us know.
____ ____ ____ ____ ____
Listen to the #PopBuzzPodcast with Scott Eastwood from Fast & Furious 8 and Suicide Squad right here or subscribe for free on iTunes to get new episodes sent straight to your phone every Friday.