We Bet You Can't Guess What Pete Wentz's Fave Workout Music Is
1 September 2016, 12:01 | Updated: 8 May 2017, 17:09
Seriously, this is the most Pete Wentz choice of gym tunes we can think of.
Fall Out Boy bassist and general pop punk entrepreneur Pete Wentz has revealed the secrets behind his gym workout plan. And it is emo AF.
Fresh from his headline slot at Reading And Leeds festivals, Pete chatted to NME about his choice of exercise music.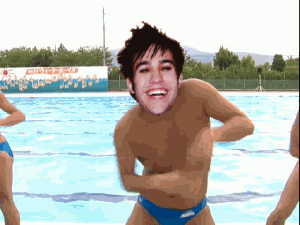 wifflegif
So, what gets Pete moving in the gym? Something energetic? Maybe some fast paced guitar stuff? EDM?
Nope, it's, um, Frank Ocean's "Blond". Apparently, he claims he is a "sad music in the gym guy".
I listened to it in the gym and I really thought about it. I can really get the extra gains when it gets real sad. Is that so messed up? Everyone else is listening to, like, "roarrrr" and I'm like 'let's go, come on, squeeze a tear out of my bicep'.

Pete Wentz
Are those sweat beads or tears on your face Pete?
Plus, Pete also got as confused as we did about the whole title thing:
It came out and it was blond but all the reviews put the 'e' in it and I was like "is this on purpose or not on purpose?". I wasn't really sure. It's super confusing, but it's got to be purposeful so I'm wondering what that is.

Pete Wentz
Still, bit rich for the man who named a song "Thnks Fr Th Mmrs" to complain about poor spelling.
Fall Out Boy have just wrapped up their tour in support of American Beauty/American Psycho and now return to the studio to work on new music.