Watch Fall Out Boy Rock The Canadian Superbowl
30 November 2015, 11:54 | Updated: 8 May 2017, 17:09
Light Em Up!
Sunday saw the Grey Cup take place in Winnipeg in front of nearly 40000 Canadians as The Edmonton Eskimos beat the Ottowa Redbacks 26-20.
Oh, and, of course, there was also a big half-time show spectacular starring Fall Out Boy!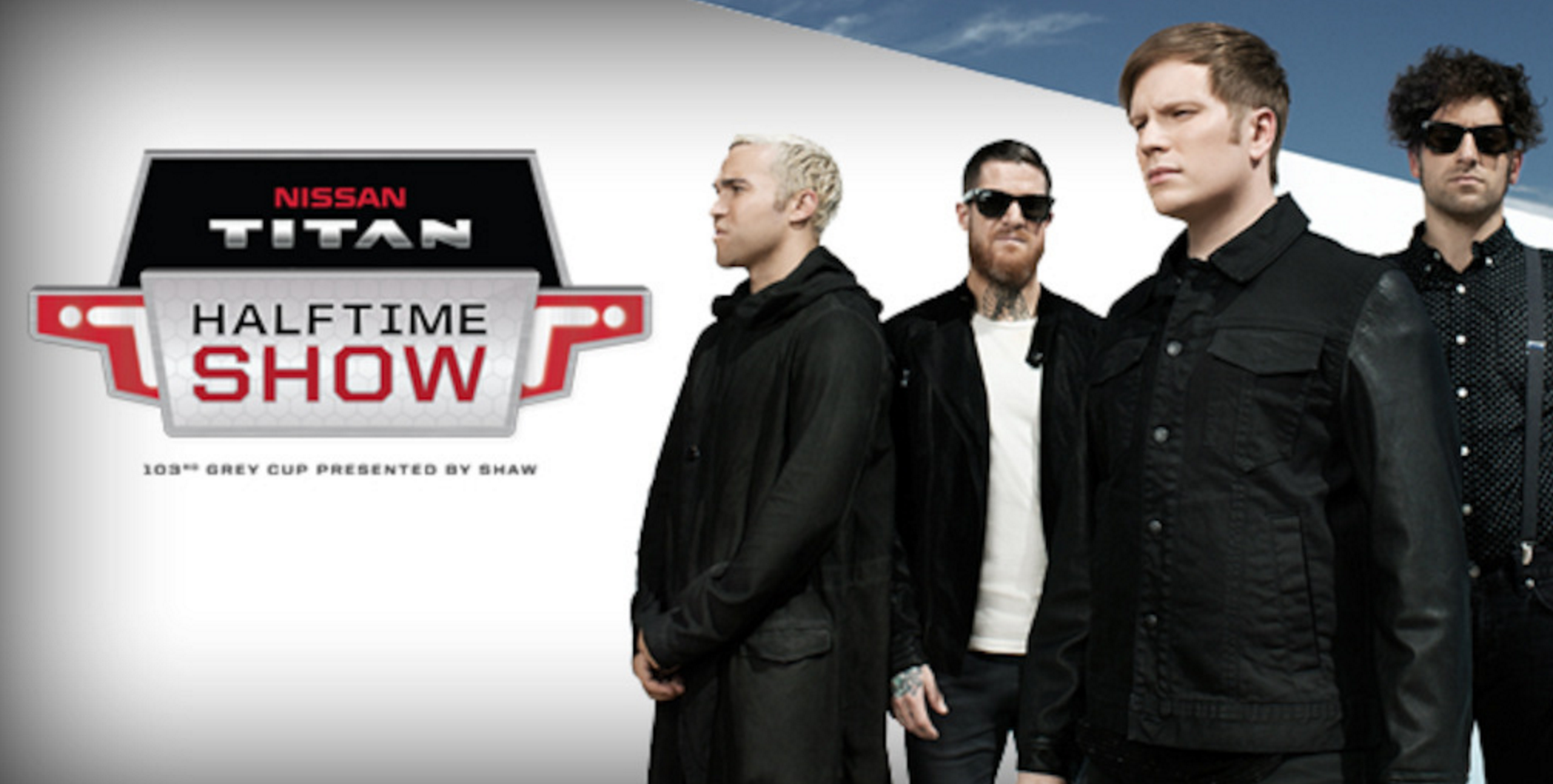 The band played a medley of hits from AB/AP ("Centuries", "Irresistable" and "Uma Thurman") with a brief taste of "Thnks Fr Th Mmrs" thrown in for the old school fans before closing on "My Songs Know What You Did In The Dark".
And whilst they may not have had any of the big Superbowl trappings like left sharks or a Destiny's Child reunion, they did have fireworks. And a lot of fire.
&! @falloutboy killing halftime! #CFL #GreyCup pic.twitter.com/YU1lqwS6MZ

— CFL (@CFL) November 30, 2015
Previous acts to play the show include Celine Dion and Shania Twain. They are in the big leagues now!
Fans loved it:
Just watched Fall Out Boy at the Grey Cup, holy shit they killed it.

— AM(Y)erican Psycho (@findingwentz) November 30, 2015
@falloutboy #GreyCup Performance was Killer Tonight! Glad I didn't miss it! #OldiesAndNewies #ThnksFrThMmrs

— Brittany (@canadian_girl27) November 30, 2015
S/O to @falloutboy for their kickass performance during the #GreyCup halftime show tonight. Rock on, fellas!

— Patrick Mercier (@PMercier31) November 30, 2015
And the boys clearly had a good time too:
After the show is right after party #FallOutBoy #GreyCup #GreyCup103 pic.twitter.com/6UC6zt8pE2

— UniversalMusicCanada (@universalmusicC) November 30, 2015
But sadly there isn't any official footage online atm.
So we'll just make do with this shaky cam "fan footage" effort. Don't tell anyone...
Nice job boys!