Camila Cabello Just Released A Song With...Not Fifth Harmony
30 June 2016, 14:28 | Updated: 16 June 2017, 10:11
Well this is a bit different, isn't it?
Camila Cabello is constantly dodging solo career rumours. It's kind of her thing now. Now, we don't have any special insider information about whether or not Camilla is about to Beyoncé her band mates, but what we do know is that she's been very open to spreading her wings and doing other projects.
Camila teamed up with arts initiative OMG Everywhere to inspire kids through music. She and producer Benny Blanco took part in a workshop with a bunch of New York students.
WE MADE A SONG OUT OF BANGING ON WATER GALLONS AND SQUEAKY FLOORS!! pic.twitter.com/X9ehKDl78u

— Camila Cabello (@camilacabello97) June 27, 2016


With the help of Benny Blanco and Camila, the kids are able to construct a song from household items like water jugs, pounding seat cushions, and salt shakers. The kids then get to work coming up with lyrics and the result is actually pretty damn cool.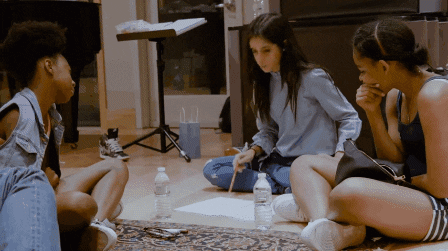 Camila supplies the vocals for the chorus and, bada boom bada bing. "Power In Me" is born. Camila is so good with the kids, we low key want her to quit Fifth Harmony and make music with these kids all the time.
Just a thought. Put away the pitchforks.