5H's Lauren Just Revealed Why She Quit Social Media And It's Not Why You Think
11 October 2016, 11:43 | Updated: 8 May 2017, 17:09
Are Fifth Harmony the most harassed pop group in history?
It seems like every week we hear a crazy story about the Fifth Harmony girls getting harassed. Unfortunately, another one of the girls has been bullied online to the point that they've quit social media altogether. This time it's Lauren Jauregui.
Last week, Lauren tweeted about third party Presidential candidate Jill Stein. It was a fairly harmless tweet, just offering up some information to her followers. It's wasn't an endorsement per se - but that didn't stop Hillary supporters bombarding Lauren with hate for 'taking votes away' from Hillary.
Lauren even confirmed that she is voting for Hillary but that didn't stop people going in on Lauren.

Did you know there's a Woman named Dr. Jill Stein yes DOCTOR who is beautifully educated and actually cares about people instead of money?

— Lauren Jauregui (@LaurenJauregui) October 5, 2016
I am definitely with Her for the sake of not having Him in the White House, however, my point was to shed light on things purposefully muted

— Lauren Jauregui (@LaurenJauregui) October 5, 2016

After receiving a huge amount of abuse, she said she was 'taking a break from this shit'. In an interview with Entertainment Tonight, she further explained why she was ditching social media.
"I feel like a lot of people disregard the scrutiny that people like us are under," she told Entertainment Tonight. "We're not all thin, model types, and we're not all perfectly colored. It mind-boggles me that somebody would take time out of their life to make someone feel inferior because of something like that. That to me, is insane."
"You can't help it as a human being when you're put under so much scrutiny, by multiple people, not even just one person in real life, telling you something. It harms you," she said. "We try to sit with each other and lift each other up, and these people who are telling you things, these people are all behind their computers who are envious of what you have, and the abilities that you have."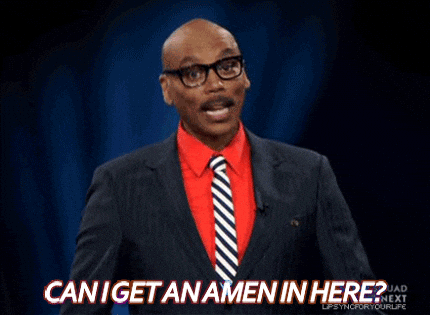 RuPaul's Drag Race
There is a lot on the line with the upcoming elections, so it's to be expected that people's emotions are running high and people will feel very passionate about who to vote for. Abusing people online, however, because of their (completely inoffensive) opinion/tweet is NOT cool.
Lauren isn't the only 5H girl to have left Twitter in recent weeks. In August, Normani was forced off the site by a torrent of racist tweets and last month a fan almost tore off Ally's shirt after arriving at an airport in Mexico - and then she was assaulted by a fan onstage, who held on to her so tightly when security tried to drag him off that she fell to the floor!

WHAT IN THE LUCY HALE IS HAPPENING pic.twitter.com/lyZYjPfFLE

— maybe™ (@kordeibreak) September 30, 2016
We hope the Fifth Harmony girls managed to survive the rest of their world tour without further incidents like the above - either online or IRL.

___ ___ ___ ___ ___
Listen to this week's #PopBuzzPodcast featuring Joe Sugg right here on Soundcloud, or you can download it straight from iTunes, Audioboom or TuneIn.