Anti-Trump Songs: Are They Important Or Just Embarrassing?
16 January 2017, 16:28 | Updated: 8 May 2017, 17:09
With Green Day, Gorillaz and more dropping anti-Trump bangers, is a protest song still a good idea in 2017?
As Donald Trump officially becomes the next President of the United States, many musicians have been sharing their thoughts and feelings about possible changes to the country and their outrage at the new commander in chief.
Some, like Halsey and Melanie Martinez, will be marching today (January 20th) as the inauguration takes place, some, like Matty Healy of The 1975, have spoken at length on the subject during concerts, while others have simply taken to social media to express their disgust. But many other musicians go a different route, a more artistic path, in order to show their true feelings regarding Trump and his cronies.
It's called a "protest song". And it is a tricky art to master.
Green Day, already known for their political statements thanks to American Idiot, dropped a brand new lyric video this week for 'Troubled Times', taken from their recent album Revolution Radio. But the anti-Trump sentiment of the visuals was met with a mixed response to say the least.
It's not that their fans necessarily disagree with their political stance. It's just a lot of them find the whole process of singing about your views sort of, well, embarrassing.
@warmandpunchy "Whoa Green Day did it, they really did it, they took down Trump, the real American Idiot."

— Sebastian Stirling (@newartillery) January 20, 2017
If only Green Day had criticised Donald Trump in song before the election, things could have been so different.

— Jamie Ross (@JamieRoss7) November 21, 2016
Think he's being sarcastic there...
Gorillaz and Arcade Fire have now followed suit with similar protest songs but, again, while many have praised them for taking a stance, others on social media were quick to point out that, no matter how many political lyrics you write, Trump will still be President for the next four years. Doesn't that make the whole exercise a bit pointless? Isn't now the time for action over singing?
But is the point of this music really to attempt change? Or is it to give a voice to those who need an outlet? Many of Green Day's younger fans, particularly those who aren't of voting age, will appreciate having a unifying anthem that can accurately spell out their frustration to a wide audience.
To that point, Green Day's chant from their AMAs performance earlier this month ("No Trump, No KKK, No Fascists USA") has now been adopted by protestors during the recent committee hearing of Trump's Attorney General pick Jeff Sessions.
.@GreenDay makes an appearance at Sessions hearing via protestor chants "No Trump, No KKK, No Fascist USA!" #JustSayNoToSessions

— Kaliko Castille (@WizKaliko) January 10, 2017
*trump gets elected*
Green Day: "well fuck, America? Guess we gotta come back" pic.twitter.com/DE6Y1B5oqD

— Meg |-/ 10 days (@pilotsaviors) January 9, 2017
Regardless of your political leaning, you have to admit that is a powerful statement for a pop punk trio to deliver.
So while there is no doubt that Green Day's or anyone else's song ain't gonna remove someone from office, giving a voice to the angry and disenfranchised is certainly not to be sniffed at, especially when it comes in the form of harmonising rather than aggression.
So turn off your cringe alarms kids, cos it's time for action, and we are gonna need a LIT soundtrack.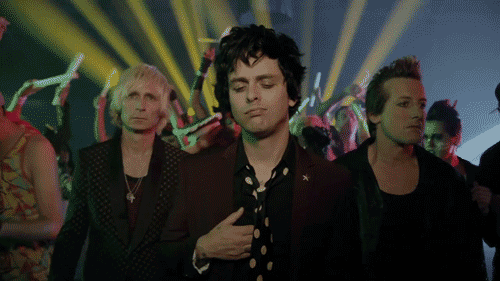 Green Day
What do you guys think of artist's making protest songs? Let us know below.
___ ___ ___ ___ ___
From Brendon Urie to The Vamps, here are the best bits from the #PopBuzzPodcast in 2016. Listen right here or subscribe for free on iTunes to get new episodes sent straight to your phone every Wednesday.