Billie Joe Armstrong Just Explained Why He Wants To Destroy "Pop Punk" Forever
5 October 2016, 13:42 | Updated: 8 May 2017, 17:09
We're actually inclined to agree here.
Billie Joe Armstrong and the rest of Green Day are largely considered the Godfathers of modern punk. They've been at this whole punk thing since the late 80s and it's pretty obvious why they are considered huge authorities on the genre.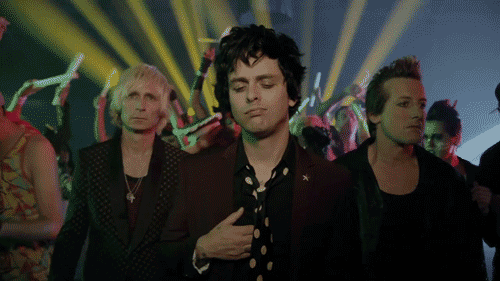 Last December BJA tweeted this and people were like "huh?"
my mission for 2016? to destroy the phrase "pop-punk" forever

— Billie Joe Armstrong (@BJAofficial) December 31, 2015

This is mainly significant because Green Day was are a pioneering act that largely influenced many of the bands we would consider "pop punk" today. In the same way your grandparents influenced your parents (by literally giving birth to them), pop punk wouldn't be here without Green Day.
Well, Green Day is gearing up to release their upcoming album, Revolution Radio, and BJA is clarifying why he thinks we've got to ditch the term "pop punk".
BJA explained his position to Kerrang, saying "I've always hated the phrase 'pop-punk'. I think it's a contradiction in terms. Either you're punk, or you're not."

"I come from a scene where every band was different from the others; it was all so diverse."

"No two bands sounded the same. No-one was jumping on one particular sound. We were all different. Every good band was into what other good band were doing, and it didn't matter that these bands were very different from one another. In fact, it was important that we were different from one another."
"And now we have pop-punk. And I hate that phrase. It lacks diversity."


Billie has got a point here. We've grouped a bunch of bands that sound very similar under the umbrella term "pop punk". It's a catch-all term that we're used to, but does it really mean anything?
What do you guys think? Is the term "pop punk" way too generic to actually mean anything? Or do you think it accurately describes the genre? Sound off in the comments below!

In this week's edition of the #PopBuzzPodcast, we chat to YouTube legend Joe Sugg about his brand new graphic novel "Username: Regenerated" and grill him as he enters the PopBuzz Confession Booth! What is the most embarrassing thing in his web browser history? What does he hate most about YouTube? And when was the last time he sh*t his pants? Find out below!
You can listen to the entire episode right here on Soundcloud, or you can download it straight from iTunes, Audioboom or TuneIn.