WATCH: Simon Cowell Loves This Green Day Piano Cover - But Is It A Yes From You?
17 May 2016, 15:03 | Updated: 8 May 2017, 17:09
This Britain's Got Talent contestant did a whole new version of "Basket Case" - and it's a no from us.
This is Green Day, the Californian pop punk pioneers known for their stoner anthems, politically charged lyrics and energetic live performances.
GIFS-ANDTHINGS.TUMBLR.COM
One of their biggest hits, "Basket Case", is a fast-paced four chord punk song about teenage rebellion and paranoia while high out of your mind.
GIF SOUP
And this is TV ratings monster Britain's Got Talent, the launchpad of the likes of Susan Boyle in which a group of judges headed up by One Direction mastermind Simon Cowell preside over a series of family-orientated variety acts.
Now, you'd think that these two elements would not play well together right?
Giphy
Well, now you can judge for yourself...
This weekend's episode featured a performance from Josh Curnow, a perfectly nice 26 year old guy who performed cover of "Basket Case" at the piano.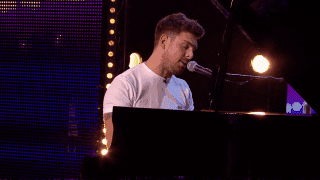 ITV
The crowd go nuts of course but remember - this is a crowd who will give a standing ovation to a dancing dog.
And we're not saying it's BAD, far from it - the guy clearly does have talent and his story about being rejected by a music teacher at school is sad - it's just not... well... it's not Green Day. Tbh, we are kind of over all these slowed down emotional versions of upbeat songs - can't we just enjoy the original?
Or maybe we're wrong and the legions of Green Day fans out there will actually welcome this fresh take on a classic?
So, is he an Idiot or a Jesus of Suburbia?
Watch the full performance below and let us know what you think: