Which Female Artist Recorded A Secret Green Day Album?
20 May 2016, 16:13 | Updated: 8 May 2017, 17:09
Turns out Billie and co have another famous fan to add to the list.
Everyone loves Green Day right? I mean, how can you not sing along and pogo like a maniac when this tune comes on?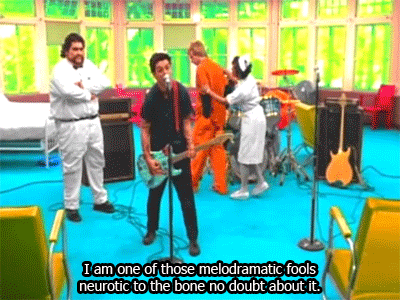 GIFS-ANDTHINGS.TUMBLR.COM
Exactly. Everyone loves Green Day. Including Florence Welch.
Flo did a recent interview with Rolling Stone where they quizzed her on her music taste and the subject of Billie and co came up.
The first CD I ever bought was Green Day's Dookie. It was my first clue that there could be a whole identity around the music you liked. I had the shoes and the world's baggiest cords. The only thing I didn't have was a skateboard...I was going to see punk bands, and [producer-artist] Dev Hynes and I bonded. We were talking about how we loved Nimrod, and we recorded it in his kitchen with just his guitar. It's out there on the Internet!

Florence Welch, Rolling Stone
Yes, it turns out Florence recorded an ENTIRE ALBUM of Green Day songs as a tribute.
And some of it is online!
And it turns out even Billie Joe approves of this endeavour.
Later, I met Billie Joe Armstrong, and he told me he liked it. My 13-year-old self's head was exploding somewhere in the past.

Florence Welch, Rolling Stone
She even got the old crew back together for a one-off rendition at Coachella.
Incredible scenes.
Yes, everyone really does love Green Day.
TUMBLR.COM