Green Day's Concert Got Cancelled Last Minute & The Fans Are Pissed
7 July 2017, 12:05
Fans reported an unsafe stage setup, unpaid workers and stranded tourists after the concert was pulled just 30 minutes before doors were due to open.
UPDATE 07/07/17
Promotor PCL Presents have released an additional statement where they stand by their claim that negative weather caused the Green Day show at Bellahouston Park to be cancelled at the last minute. They also claim that the widely spread pictures of the stage on social media were not representative of it's final state.
Read the full statement below: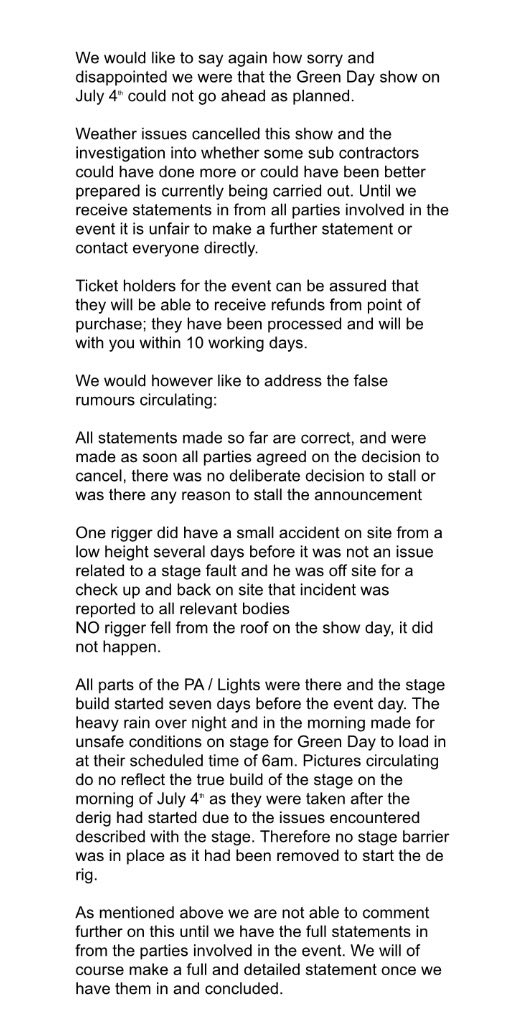 PCL Presents, Twitter
However, as several angry fans have pointed out, this statement still does nothing to explain the gaps in the timeline that resulted in concert attendees being left in the queue until just 30 mins before the event was due to begin.
Packing up started before 10am when we arrived when I got there to queue the PA system was being taken down.

— Recurve (@curexcomplex) July 6, 2017
Can you explain how you can test PA without a stage built up? Live in the area and nothing was built the day before the show. pic.twitter.com/zdO5W1EmIN

— Jinx (@hurricanejinx) July 6, 2017
We'll bring you more details as we get them.
ORIGINAL POST 05/07/17
Green Day fans in Glasgow were left heartbroken yesterday (July 4th) after the band were forced to pull their huge outdoor concert in the city just half an hour before doors were due to open.
Promotor PCL Presents tweeted the news late in the afternoon, blaming the cancellation on poor weather conditions in the city:
[2/2] unfortunately today's show will be cancelled. Tickets will be refunded from point of purchase within ten working days.

— PCL Presents (@PCLPresents) July 4, 2017
However, Green Day themselves soon put out a fuller statement on their website suggesting that mismanagement was to blame rather than a spot of rain:
"Glasgow, we are very sad to report that our show today at Bellahouston Park has been cancelled. The local safety council, production crew, and concert organizers have deemed the stage unsafe for the fans and everyone involved. We are very distraught about this as we are in Glasgow now and were very much looking forward to this show as one the highlights of our tour. We have been playing in extreme weather conditions throughout this European tour, and the last thing we want to do is see a show cancelled. We love our Scottish fans and we don't care if its raining fucking sideways, although the safety of our fans and our crew is always our top priority. We love you Scotland, we love the city of Glasgow and it goes without saying that WE WILL BE BACK!"
Hmm, so what exactly was going on then?
Pretty soon, social media was blowing up with reports from workers on site about poor stage conditions and mismanagement resulting in set up being way behind schedule, and fans, many of whom had travelled from across Europe for the show, were left incredibly angry about the whole thing.
Care to explain this then? And why the pictures been removed? #GreenDay #Glasgow pic.twitter.com/LZXB6Hr8Gi

— Disco Dave (@Scary__Dave) July 4, 2017
July 4, 2017
Green Day gig #Glasgow cancelled because the stage wasn't safe. Yet again, The Simpsons predicted it... pic.twitter.com/a6Tj5nHNSs

— Fraser Beattie (@Fraser_Beattie) July 4, 2017
Get this shared - the hundreds of staff who've been working at/on the Green Day gig in Glasgow have been told they are not getting paid.

— Zeyn (@GreenZeyn) July 4, 2017
Yep, you read that last one correctly - according to this Twitter video, it would appear that none of the staff present are getting paid for the gig either:
Looks like none of us are getting paid @betterthanzero pic.twitter.com/JENKxqHCK5

— Dr Jennifer Jones (@jennifermjones) July 4, 2017
Bit of a shambles really isn't it?
PCL then posted a second statement to Twitter, backing up their earlier weather claims and stating that they are "investigating" any additional comments made by bar staff:
STATEMENT REGARDING THE CANCELLATION OF GREEN DAY AT BELLAHOUSTON PARK pic.twitter.com/Xa2qlsSBYX

— PCL Presents (@PCLPresents) July 4, 2017
Whatever the real story, something has clearly gone wrong here as, at the same time and in the same weather conditions, TRNSMT festival managed to erect their stage setup prior to their festival taking place in Glasgow this weekend.
Finally, frontman Billie Joe Armstrong left fans a short video message on his Instagram apologising again and reiterating the rumours that the stage was in fact deemed unsafe:
What a bummer indeed.
Many fans had gathered outside the band's hotel to sing songs together and show their support and, ya know, keep themselves entertained:
Green Day fans sing to @GreenDay after gig cancelled! #Glasgow #Gig #Greenday https://t.co/PvrxU0oFFq

— SamanthaGirvan (@SamanthaGirvan) July 4, 2017
But at least not all was lost as a tribute band from London flew up to play a gig that night for stranded fans.
RIGHT BEING FLOWN UP TO SCOTLAND, WILL BE THERE ABOUT 9PM, KEEP AN EYE ON Green Day FACEBOOK OR HERE FOR UPDATES XX

— Green Date (@greendate) July 4, 2017
Pretty sweet tbh.
We'll bring you more word on refunds and rescheduled dates as info comes in.