Could These Artists Be The Next Halsey?
17 November 2015, 17:34 | Updated: 8 May 2017, 17:09
Who will the sleeper hit of 2016?
Four days ago it was announced that Halsey sold-out Madison Square Garden. That's 15,000 people. She was playing 400 capacity shows in New York only back in April. That's a phenomenal achievement, and the MDG show isn't even until August 2016. We wouldn't be surprised if she added a second date by then.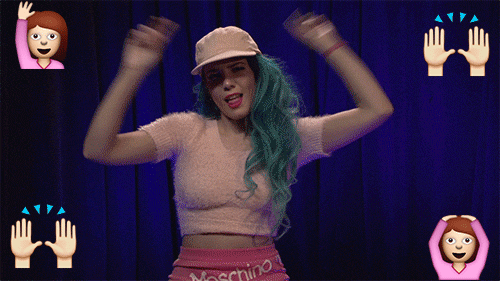 Much has been made at how Halsey circumvented traditional media by building her following online, and rightfully so. It's rare for an artist to reach these peaks without relying on radio or TV for promotion. Her rise and rise is a good example of what's possible when you take away the traditional gatekeepers of superstardom and let the people choose their own champions.
She wasn't alone. Melanie Martinez, Shawn Mendes and, to a lesser degree, Alessia Cara, have all built followings online and are pushing through to the mainstream. But who are the contenders to pull off a similar feat next year? We've round up a couple of people who we think could build an internet fandom and set themselves on a course to the big leagues.
Dua Lipa
Whatever happens to Dua Lipa, we ain't never gonna stop dancing to "Be The One". It's a wistful dance banger, equally at home on a pair of headphones or bumping out of a club sound system. Her voice on this song reminds us A LOT of Christine McVie from Fleetwood Mac, which is a very good thing indeed.
The only problem is that Dua Lipa might break through quicker than we thought. She's has been trending on Shazam this week in Britain and she's receiving significant radio backing. But for those abroad, you may want to consider carrying the torch until she reaches your shores.
Vanessa White
Much like Melanie Martinez, who had a second chance after her appearance on the third season of The Voice, Vanessa White is a contender to break out in a much bigger way than her first incarnation...if we're judging this on music alone.
Despite being in a relatively successful girl group in Britain, The Saturdays, Vanessa wasn't really given a moment to shine, usually being drowned out by the tabloid exploits of her bandmates. It even took us a week to realise who she was when she dropped "Relationship Goals", arguably one of the best pop songs of the year.
We were pleasantly surprised. The Saturday's never seemed to be about the music (sorry fans!) but here's a singer that's pushing her music in a sophisticated, contemporary direction. It sounds like she gives a sh*t, to be honest. Her follow up song "Don't Wanna Be Your Lover" is a banger too, but, she's going to need a big push to win people over. Internet, you know what to do.

GIRLI
"You thought I was gonna do a ballad? F*ck off"
GIRLI will be the marmite act of 2016. There is no doubt about it. Her vocal style sits somewhere between Kate Bush and Lady Sovereign, but perhaps a more interesting comparison would be Kitty Pryde. Not necessarily in sound, but almost certainly both their attitudes towards turning genres upside down, inside out, morphing them into something completely WTF.
"So You Think You Can F*ck With Me Do Ya" was essentially made for Tumblr fandom. In fact, it might be the only place where something like this can exist. There is a bit of a debate in the PopBuzz office about how she will go down. What do you guys think?

Kali Uchis
You might have heard of Kali Uchis already. The Colombian-born, Virginia-raised musician dropped her debut EP Por Vida, for free, back in February and it caused a lot of blogs to start frothing at the mouth. Aided on production by Odd Future ringleader Tyler, the Creator amongst others, Por Vida was a glorious, hip-hop infused pop masterpiece.
Kali has been steadily building a following ever since and has moved into video directing, self-directing her first video for "Ridin Round" (which you can watch below). An album is expected sometime in 2016. Jump on this before it's too hot.
Kiiara
If we were to put our money on one of the five in this list, it would be Kiiara. From humble beginnings (a hardware from in Illinois, to be exact), she created a sh*t storm of buzz when she released the glitchy, alt-RnB banger "Gold". We practically melted into the floor when we heard it's follow up "Feels" for the first time.
There is a hidden darkness to her writing, like The Weeknd or Halsey, and she can switch between vulnerability and assertiveness, or sometimes do both at the same time, with little effort. We're expecting big things from her debut next year. Whether that is through internet praise or mainstream media is yet to be seen.