Fans Think Halsey Threw Low-Key Shade At The Chainsmokers While Performing 'Closer' On Stage
25 September 2017, 15:17
To be honest, it sounds like she was just stating friendly facts.
Halsey took to the stage perform at iHeartRadio's Daytime Village show in Las Vegas this weekend where she decided to treat the crowd to a lovely rendition of everyone's favourite song 'Closer.'
Before letting her vocals fly, she told the crowd "I'm gonna skip right to my part though... because my part is the better part anyway."
People IMMEDIATELY took it to mean that Halsey was throwing shade at Drew's verse and vocals on the song but in reality, she was just hyping up her own part. Watch the video below and make up your own mind...
uh oh…did #Halsey just throw some shade during her performance of #Closer watch the video you decide! #iHeartVillage pic.twitter.com/kGLBs63966

— Z100 New York (@Z100NewYork) September 24, 2017
Honestly, no shade or hateration detected. Just straight facts, if we're being honest. Not once does she come for his vocals either. Think about it kids, Halsey isn't gonna make everyone stand there for a full minute and thirty seconds while they all awkwardly bop to a recording of Drew's vocals in the crowd, is she? No, she's gonna skip right into HER vocals and perform, like she was booked to do.
We're sure Halsey was just having some fun with her cheeky little jibe. As far as we know, the trio are all still friends (even after that awkward tweet about Halsey's appearance that surfaced on Drew's Twitter during a hack) so honestly, there's no drama here. None at all. Just friendly shade.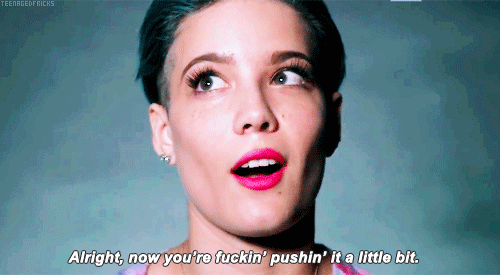 via giphy.com