Watch Halsey Give Us A Behind The Scenes Tour Of The AHS Murder House
15 March 2016, 16:47 | Updated: 8 May 2017, 17:09
She may or may not have just given Tate Langdon a shout out.
A couple of weeks ago, Halsey released the video for her banger of a song, 'Colors' and we all got away too obsessed when we noticed that she shot the video at the iconic AHS Murder House. Still screaming about it tbh.
Well now, she's treating us to some behind the scenes footage from American Horror Story Season 6 the Colors video, ft. Teen Wolf Tyler Posey and she may or may not have just given the legendary Tate Langdon a shout out! YAAAS!
The clip is jam packed full of juicy AHS titbits (#HOUSETOUR) and plenty of goofing around on set amidst the problematic 'love-square' narrative of the video. Here's the low down of everything we learned during Part 1 - yes, there's a part two on the way! - of the BTS video:
1) Tyler Posey has NEVER watched American Horror Story.
Smh Tyler, smh.
2) Halsey's cheerleading skills are LEGIT.
She used to be a cheerleader in school!
3) For some reason, both Halsey and Tyler needed to get shots in their ass - and filmed it for our viewing pleasure!
It was presumably an antidote incase they got attacked by the many ghosts and ghouls that lurk in the walls.
4) Tate Langdon Lives!
In the video, Halsey mentions that "Everything is spooky, the lights just started flickering before. Some say it's a loose bulb. I disagree..."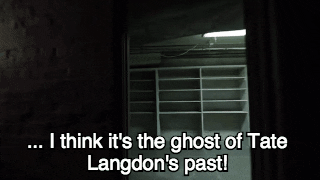 KNOCK TWICE ON THE DOOR IF YOU'RE THERE TATE!
Watch the full video here:
(WARNING: There's way too many basement shots to handle so if you're still suffering from Post Traumatic Thaddeus Disorder, proceed at caution.)