Wait, Has Halsey Been Secretly Sharing New Lyrics On Twitter?
3 January 2017, 11:36 | Updated: 8 May 2017, 17:09
It's 2017 now Halsey, you can release the album.
One of our favourite corners of the internet is Halsey's twitter account. If she's not posting fire selfies, she's dragging the patriarchy and standing up for women, the LGBTQ+ community and racial issues. And when she's not doing THAT, she's posting vague statements that sound suspiciously like new lyrics from that new album she's about to drop.
Now, she could just be tweeting out the same kind of existential crap that we're all guilty of - but we KNOW she's months away from blessing us with that second studio album so let's examine the evidence, shall we?
via giphy.com


At first glance, we ~all~ thought this was in reference to the the Russian President but... what if it was just a new lyric?
u really puttin me thru it

— h (@halsey) December 28, 2016
What about this one? Sounds like a nice catchy song title, huh?
My lover, my liar.

— h (@halsey) December 21, 2016
Dreamy visual, references to California. It's a lyric.
look across the valley, see the city lights. like freckles on the face of California.

— h (@halsey) November 26, 2016
This one rhymes... definitely a lyric.
devil underneath your grin. sweet thing, but she play to win.

— h (@halsey) December 13, 2016
Is this a famous quote? Or is this lyric? Because if it's the latter, it's about to become our favourite lyric of all time.
I love everything you've ever touched and because of that I love myself

— h (@halsey) December 30, 2016
We're so on the edge about new Halsey music that literally ANYTHING could be lyrics for all we care. This one would make such a good ballad...
Honestly? There's not enough tim tams in a pack.

— h (@halsey) December 2, 2016
Sequel to New Americana, easily.
a spice girls themed pizza place: slice up ur life.

— h (@halsey) December 10, 2016
Halsey, babes, we don't want to rush art but... can you drop the album now? The world needs it. Thanks, love you.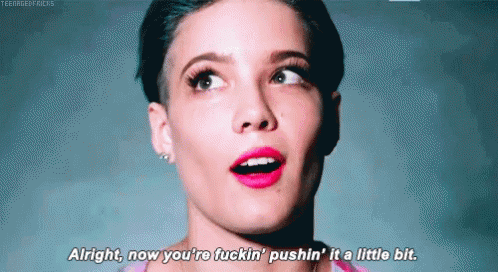 via giphy.com
___ ___ ___ ___ ___
From Brendon Urie to The Vamps, here are the best bits from the #PopBuzzPodcast in 2016. Listen right here or subscribe for free on iTunes to get new episodes sent straight to your phone every Wednesday.