Halsey Reveals Disgusting Online Trolling In A Heartbreaking Tumblr Post
16 January 2017, 12:30 | Updated: 8 May 2017, 17:09
"I didn't "ask for this" when I started making music."
Halsey has never been one to shy away from using her platform to talk about things that she loves and issues that are important to her. She always takes the time to chat with her fans, share fire selfies and most importantly, she's never afraid to share personal experiences that might help out her followers.
But yesterday (Jan 15), she revealed the extent of the online trolling that she receives and just how horrifically bad it gets after she speaks about issues that are important to her. She took to her Tumblr to write a heartbreaking message:
She wrote: "I've tried to take this new life that is having money and a voice and use those things to support the charities and causes and people I believe in. The problem is, I use social media just like everyone else. Twitter didn't suddenly become different for me when I got "famous"."

She goes on to discuss the horrible messages and images that she received after she opened up about her endometriosis diagnosis, miscarriage and mental health issues - all of which were honest, brave and in her words, meant to "shine a positive light" on the issues at large.
"Every single day I sign into social media and hope to talk to fans and get to know my listeners better and snoop around for funny memes and interesting news and instead I sign in to pictures of bloody fetuses [sic], jokes about hoping I'm infertile, suicide wishes, some of the most heinous shit I've ever seen. And I try not to let it get to me but after a while it starts to add up."

Halsey
What the hell, guys!?
Whether you love Halsey or not, voices and stories like hers out there in the world are important and will continue to be - particularly within the US over the next four years. It's ridiculous that she's being so horrifically trolled like that for sharing her personal experiences.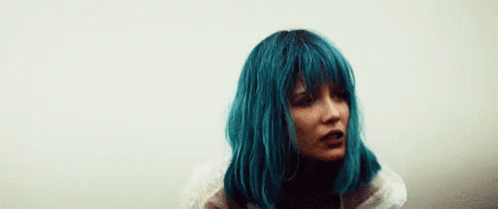 via giphy.com


Soon after the messages hit Twitter, #WeAreHereForYouHalsey began trending and was full of support from her fans worldwide.
#WeAreHereForYouHalsey Honestly if you're attacking Halsey about issues she has bravely faced in the past, you're disgusting.

— Emme Loves Luke (@caramelizedluke) January 15, 2017
Halsey is such a beautiful and talented person, she's been through so much and she doesn't deserve any of this. #WeAreHereForYouHalsey

— Katherine Skogley (@GreenMetBlue_LS) January 15, 2017
Halsey and her music got me through some rough times in my life. I wish there was some way I could help her too. #WeAreHereForYouHalsey

— Kalissa Brown (@lightlilly) January 15, 2017
No one deserves to be barraged with such hatred, especially not the lovely and wonderful human being that is Halsey #WeAreHereForYouHalsey

— jade needs sleep (@happylilphandom) January 14, 2017
send love #WeAreHereForYouHalsey @halsey pic.twitter.com/3pc5qg1bHj

— HALSEY ESPAÑA (@spainhalsey) January 14, 2017
She then responded to the hashtag with a sweet note to her fans.
Queen.
via giphy.com