Halsey Performing "New Americana" Will Make You Want To Crowd Surf
12 August 2015, 17:22 | Updated: 8 May 2017, 17:09
We're pretty obsessed with Halsey's "New Americana" and have been pretending to be problematic American teens (i.e. the cast of The OC) while commuting into work pretty much everyday. We mean, we've deffo got a cigarettes and tiny liquor bottles inside our new Balenciaga (that was a lie, we haven't and are not 100% sure what a "Balenciaga" is...).
Like our love for Lana, we're living for the tragic, broken American dream vibez and hazy production, and can't wait for Halsey's debut album Badlands to finally be in our hands.
So while seeking out our latest Halsey fix we stumbled across this AMAZE video of the singer performing "New Americana" live as part of VEVO's Lift series.
The clips sees Halsey WERKING that stage, all covered in sweat and generally being a proper popstar. It's pretty rock'n'roll and we've got major envy at all those people that got to see it live in the flesh.
Just look at this crowd. Seriously, this SLAY.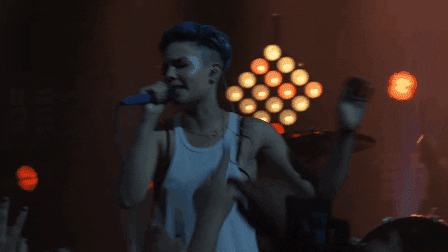 Halsey, pls let us touch you. You are our new queen.

Watch Halsey own the stage and perform "New Americana" live

Hasley plays two sold out shows in London this September? Are you going? Let us know pls and thank you