Halsey Just Clapped Back At A "Fan" Who Boob-Shamed Her Playboy Shoot And Her Reply Is ICONIC
25 August 2017, 12:50 | Updated: 25 August 2017, 13:15
Don't come for Halsey and her nipples unless she and her nipples send for you.
It's been a huge week for Halsey. First, she blessed us with another Playboy interview and photoshoot where she got real about her bi-racial background, passing for "white" and even delved further into her miscarriage and how it affected her, amongst other things. Then she performed on stage in Russia and took to Instagram afterwards to show her support for the LGBTQ+ community in the country.
Then she shared this incredible snap of her TWO recent cover shoots on Playboy and Flaunt Magazine, both of which feature her a lil' bit topless.
But, such is life on the internet in 2017... someone got offended by the pictures of Halsey and decided to police her on how to behave as a "feminist". In the comment, he wrote: "You are a feminist but you flash your boobs in Playboy magazine," with a lil' thinking face emoji.
He's right! My god! Not only one set of nipples on display but TWO! TWO SETS OF NIPPLES! Someone call the police. Dial 999. This is barBARIC behaviour. What is she thinking? She's exceeded her quota by 200%!
In true Halsey fashion, she spotted the comment under the picture on Instagram and decided to reply, eloquently hittin' him with enough facts to see him through 'til 2020.
She wrote: "Yeah it's crazy. I can show my tits in Playboy, perform at the Nobel Peace, speak at the Planned Parenthood Gala with Hillary Clinton, shake my ass on 300 stages, give a speech at the United Nations, do 150 shots of tequila, get a #1 album, and march in the streets of DC all in just ONE year! Newsflash. A woman can be multi dimensional #WeAreNotJustOneThing. Just so we are fucking clear."
Women CAN be multi-dimensional. We can speak at the United Nations, break records, stand up for women's rights... all while unapologetically owning our sexuality. It's a nipple, babe... get over it.
SLAY ME, ASHLEY NICOLETTE FRANGIPANE!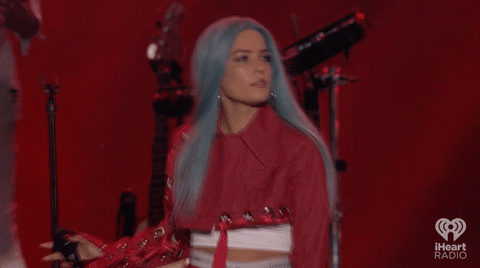 via giphy.com