Halsey Is Dropping New Info About Her Next Album And We're Screaming
28 November 2016, 11:30 | Updated: 8 May 2017, 17:09
Meet her in The Kingdom...
It's been a while since we've heard some new Halsey material, hasn't it? And no, we're not including The Chainsmokers' "Closer" by the way... we're talking about the real dark and twisty classic Halsey bops that we've become accustomed to.
Queen Halsey been teasing new music since she closed out her Badlands tour at NYC's Madison Square Garden earlier in the year. In fact, after a quick sleuth, it turned out that she had been dropping hints about her second album for well over two years and no one even noticed!
via giphy.com

This past week, Halsey has been slowly but surely revealing little snippets and nuggets of info to her fans and everyone is getting hyped about a brand new album that could be MONTHS away from release. After updating her Snapchat with some studio sneak peaks, she shared her progress on Twitter.
im exhausted to tears n leaving the studio at 5 am these days but im a tornado of anger and productivity. this is not the album ur expecting

— h (@halsey) November 27, 2016
When asked if the 'tornado of anger and productivity' was a good or bad thing, Halsey replied:
this is a very good thing. im using every bit of me to make something with dignity. https://t.co/6VpOniRcuE

— h (@halsey) November 27, 2016
On Nov 2, she tweeted and deleted a comment about new songs for the next album.
Halsey's (deleted) tweet about new songs for the next album pic.twitter.com/sOa1KOqLwZ

— HALSEY UPDATES (@HalseyInfoWW) November 2, 2016
And a few days later, she treated her Snapchat followers to sneak peak at the track list to her new album too.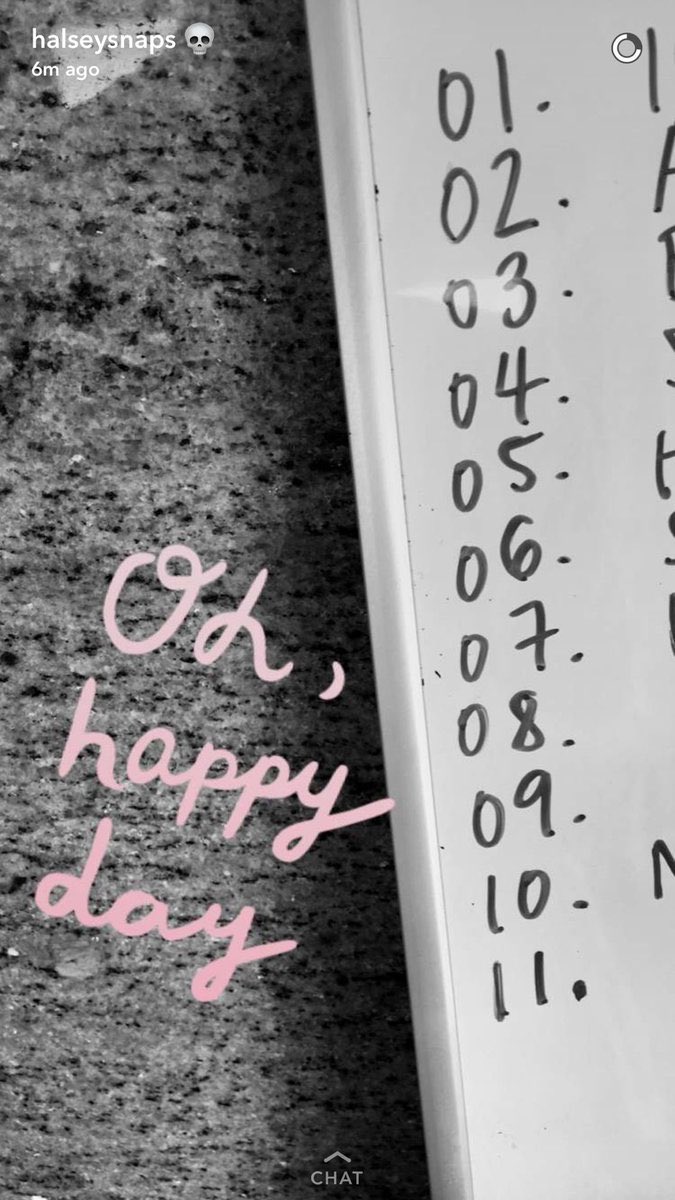 via halseysnaps

Eeeeeeven though it was only a sneak peak at the number of tracks on the album, the thought of 11 new Halsey songs has sent us into absolute overdrive. (Also, Eleven? Was that on purpose? That number is a bit... StRaNgE, don't you think? Conspiracy theory confirmed.)
NETFLIX /via giphy.com
So, what is the album's concept gonna be? Speaking to MTV news back in 2015, she revealed that she had already laid out the entire concept for the follow ups to her first EP and Badlands album: "It started in Room 93 with the EP and moved to Badlands with the album kind of taking you to the world that existed outside the 93, and so my plans for the second record is to take you to the universe outside of the Badlands, so widening the zoom on everything little by little as the records go on."

YOU CAN FIND ME IN THE KINGDOM...

— h (@halsey) August 14, 2016
So strap yourself in for Halsey's next masterpiece coming sometime in 2017, we'll update you when we hear anymore bits of info... if we haven't already died of excitement that is!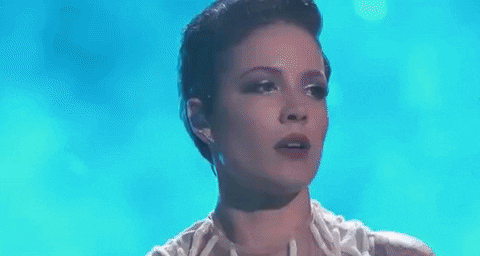 MTV / via giphy.com
___ ___ ___ ___ ___
Catch Brendon Urie on the #PopBuzzPodcast right now. Subscribe for free on iTunes to get new episodes sent straight to your phone every Wednesday.