Halsey's 'Hopeless Fountain Kingdom' Tour: Everything You Need To Know
15 May 2017, 12:29 | Updated: 15 May 2017, 12:54
The 'Now Or Never' singer has begun warming up for her big summer jaunt and we've rounded up all the details.
Halsey returned to the stage earlier this week with her first performance in almost half a year at End Fest in Sacramento on May 14th.
played my first shows in 6 months and I am JACKED for the tour. https://t.co/UXeAJofski pic.twitter.com/x5emjZd0HY

— h (@halsey) May 14, 2017
The festival performance gave fans a real treat with stunning visuals, new songs and some snazzy pyro thrown in to boot.
But, as Halsey pointed out, this new stage set up has nothing to do with the official tour later this year:
doing some radio shows this wknd & made some special merch & a stage set up on the fly. None of it relates to the tour. That's a secret

— h (@halsey) May 12, 2017
There are still many Kingdom-themed treats that will remain top secret until the tour officially kicks off in the summer. In the mean time, here's all the details we know so far...
1) When's it happening?
The shows kick off in September in Uncansville CT, wrapping up the US leg in Cleveland OH in November. Europe and other territories are expected to follow in early 2018.
2) Who else is playing?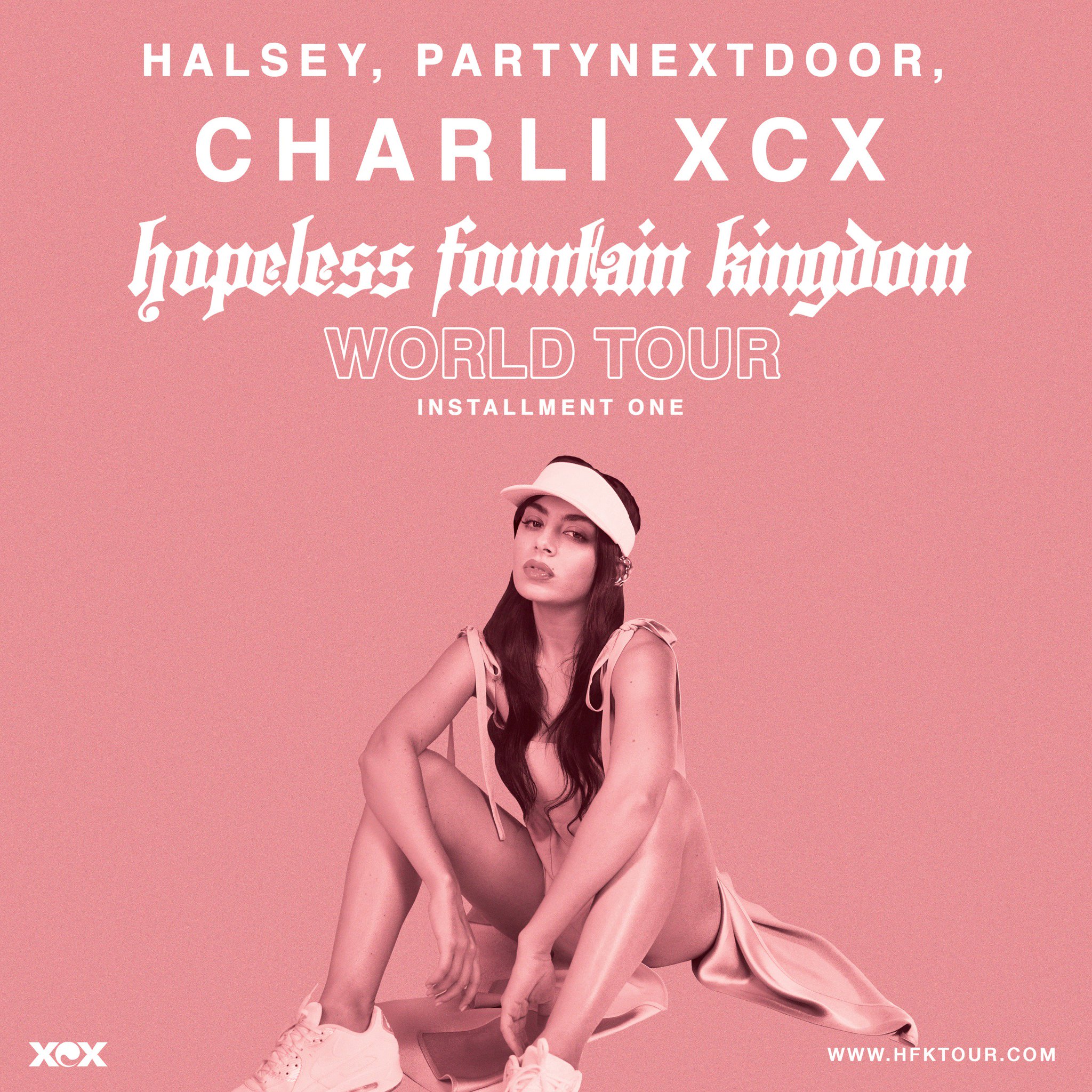 The always enjoyable Partynextdoor and Charli XCX will be coming along for the ride, basically making this the dreamy alt dance-pop tour of your dreams.
3) Any VIP packages?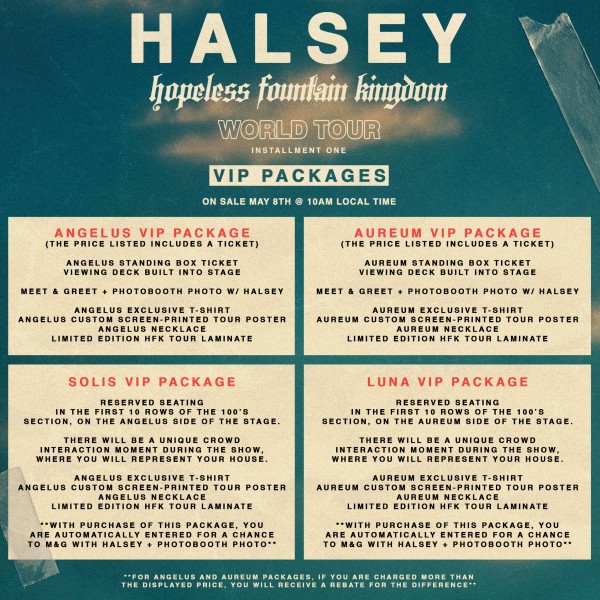 We're glad you asked!
In keeping with the Romeo and Juliet inspired theme of the album, the stage will be split into two sides representing the two opposing families. Alongside the more standard packages, featuring meet and greet and some exclusive merch, you can also pick your side via the Solis and Luna VIP packages with an "interaction moment during the show, where you will represent your house". Exciting!
ANGELUS & AUREUM VIPs are $450.00 (USD) and INCLUDE a ticket in the $450 (USD) price.
SOLIS & LUNA VIPs are $150.00 (USD) + Ticket Face Value. The ticket price is ON TOP of the $150.00 (USD) price.
4) Any more details atm?
hopeless fountain kingdom tour commercial (hq) pic.twitter.com/uyHgbQbUni

— Halsey Updates (@HalseyUpdateCA) May 6, 2017
Halsey is keeping everything pretty top secret but she did release the above TV commercial during her recent performance on The Tonight Show With Jimmy Fallon that should give a bit of an indication of the Baz Luhrmann inspired aesthetic she's aiming for throughout the campaign. Also, that music you can hear is a clip from the upcoming track 'Walls Could Talk".
5) Where can I get tickets?
Head over to hfktour.com now for a full list of dates and ticket packages available in your hometown.
____ ____ ____ ____ ____
Listen to the #PopBuzzPodcast with Hey Violet right here or subscribe for free on iTunes to get new episodes sent straight to your phone every Friday.