Halsey says My Chemical Romance are the greatest emo band of all time
7 April 2020, 12:00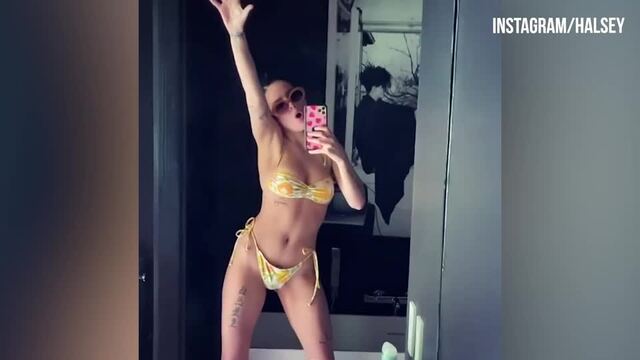 Halsey dances to Harry Styles in her bikini during lockdown
Halsey thinks My Chemical Romance are even better than Paramore and all other '00s emo bands.
Emo kids make some noise. Halsey has just revealed who her all-time favourite emo band is and it's My Chemical Romance.
It's no secret that Halsey is a huge emo fan. Not only is much of her music heavily influenced by the emo greats ('Nightmare' is lowkey 100% emo), but she's even collaborated with iconic stars like Bring Me the Horizon ('Experiment on Me') and Blink-182's Travis Barker ('11 Minutes'). Halsey's even teased that she may write a more emo inspired project after Manic.
READ MORE: Halsey says she is taking a break after the Manic tour to "grow up"
Now Halsey's put her emo credentials on the line by taking part in an emo band bracket that pits legendary acts like Paramore and Taking Back Sunday against each other. And Halsey chose that My Chemical Romance come out on top.
Yesterday (Apr 6), Halsey took to her Instagram stories to fill out a "Mid-'00s "Emo" Bands" bracket. The bracket includes its faire share of infamous emo bands. Hawthorne Heights, Chiodos, Alexisisonfire, Circa, Say Anything, The Used, Dashboard, Amor for Sleep, From First to Last, Taking Back Sunday, Paramore, My Chemical Romance and Jimmy Eat World feature.
In a series of tight rounds, Halsey picks My Chemical Romance over Paramore and then over Taking Back Sunday right after them. She then picks MCR over Say Anything in the final round. Halsey captioned the bracket: "this was so hard for me bc I love TBS and MCR equally Top 2 for life." Given how brilliant all of the bands are, we think Halsey did a pretty great job.
Still, kicking out Paramore so early, doesn't feel right?!!!
Who do you think are the greatest emo band of all time?