Halsey lands first lead role in The Players Table opposite Sydney Sweeney
10 September 2020, 11:24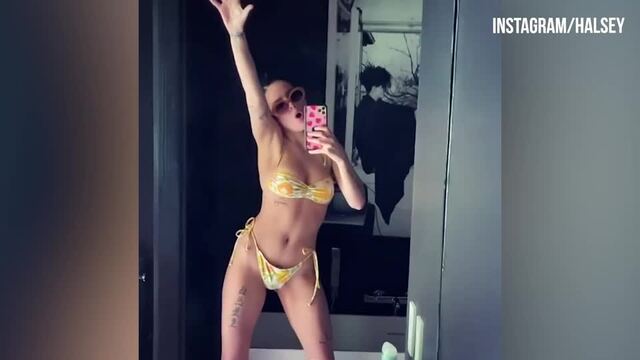 Halsey dances to Harry Styles in her bikini during lockdown
The Players Table will be based on Jessica Goodman's hit novel They Wish They Were Us about an elite private school.
Halsey will make her major acting debut in a new teen drama called The Players Table starring Euphoria's Sydney Sweeney.
Halsey may be best known as a singer but the 25-year-old is no stranger to the acting world either. Ever since she first rose to fame, Halsey has always expressed interest in TV and cinema. She's even done voice work for American Dad! and Teen Titans Go! Not to mention, she also appeared as herself in A Star Is Born alongside Bradley Cooper and Lady Gaga.
READ MORE: Halsey calls out JK Rowling over transphobic comments
Now, Halsey will take her career as an actress to the next level with her first lead role in a TV series and it sounds iconic.
Taking to Instagram yesterday (Sep 9), Halsey posted a set of photos of her posing with rising star Sydney Sweeney and she announced their upcoming project. Halsey wrote: "I am the luckiest girl in the world because I get to make my acting debut with my favorite human-being @sydney_sweeney, on a tv adaptation of an amazing book by @jessicagoodman."
Halsey went on: "to be written/adapted + directed by one of the greatest @annabelleattanasio and wildest of all I will also be a PRODUCER on the series with some of my idols JEAN-MARC VALLÉE + NATHAN ROSS @crazyrosefilms with Sydney's Fifty-Fifty Films @fiftyfiftyfilms ! You guys are gonna fall in love with The Players Table. I simply cannot wait..."
Just like Jessica Goodman's novel They Wish They Were Us, The Players Table will follow high school senior Jill as she tries to solve the murder of her best friend Shaila with the help of a young woman named Rachel (Halsey). Oh an it's set at an elite Long Island prep school, so think Gossip Girl meets Elite.
Sydney also posted the photos of her and Halsey on her Instagram page. She wrote: "the biggest secret ive ever kept. so excited to star alongside such a talented creative genius. can't think of anyone id rather do this with #ThePlayersTable."
Halsey and Sydney Sweeney previously worked together on Halsey's 'Graveyard' music video and have remained close friends ever since.
What do you think? Are you excited to see Halsey act?