Halsey's Just Picked Her "Worst" Song And It's Probably One Of Your Faves
19 June 2017, 14:35
We actually weren't expecting her to pick this track as her 'worst' song...
Trying to pick your favourite Halsey song is like your parents trying to pick their favourite child only one thousand times more dramatic and important. And thanks to Hopeless Fountain Kingdom, that decision just got a whole lot more difficult. But Halsey herself knows EXACTLY what songs she would pick as her faves... and which ones she thinks are the worst.
After a few back and forth tweets yesterday between her and her fans about their favourite songs on Hopeless Fountain Kingdom, someone asked her what her best and worst released songs were and well... her answer was completely unexpected.
@halsey / Twitter
New Americana? NEW AMERICANA?! People IMMEDIATELY jumped to the track's defence, pointing out that the lyrics are flawless and the song didn't deserve such slander. But Halsey was quick to point out why she reckons 'New Americana' is her worst song and it's all to do with personal preference.

@halsey / Twitter
To be honest, we totally get it. Obviously, 'New Americana' was the song that catapulted Halsey onto the playlists of radio stations and people across the world. It's arguably the song she's most recognised for too so we can totally understand why it's wearing a bit thin these days; having to perform that track over and over and over again can probably get a little tedious after a while.
As for her favourite songs? As well as 'Sorry', 'Strangers' and 'Bad At Love' (all from HFK), she counts Gasoline and Control as two of her most honest and gut-wrenching songs.
Those ones are really special. Very honest and gut wrenching. I'm glad you like them. Two of my favorite love songs, honestly. https://t.co/YB5WYK6lUf

— h (@halsey) June 18, 2017
And the ones she's most proud of lyrically? All certified bops.
Is There Somewhere, Drive, Haunting, Sorry, Gasoline, Ghost, Roman Holiday, Hurricane, Lie, 100 Letters are my top 10! https://t.co/KTazDR7Aiu

— h (@halsey) June 18, 2017
Justice for 'New Americana', amirite?!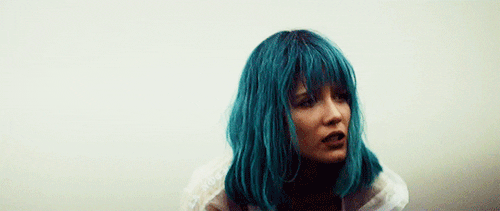 Astralwerks
____ ____ ____ ____ ____
Listen to the #PopBuzzPodcast with Camila Cabello right here or subscribe for free on iTunes to get new episodes sent straight to your phone every Friday.