Harry Styles launches Pleasing beauty brand: Everything we know so far
15 November 2021, 17:51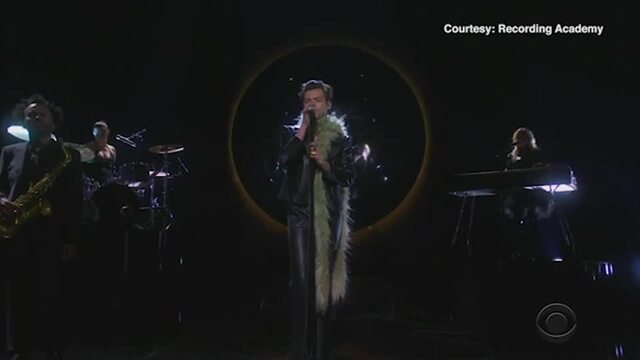 Harry Styles opens the ceremony in spectacular style, shirtless in a leather suit and green feather boa
Here's what we know about Harry Styles' new beauty brand Pleasing.
Harry Styles is officially launching his beauty brand Pleasing.
As you know, the 'Watermelon Sugar' singer is already a fashion icon. Whether he's rocking a dress on the cover of Vogue or wearing a feather boa, Harry has a style that is completely unique. Having already dominated the music biz, fashion world and now Hollywood, it would make sense that the former One Direction star would become a brand owner, right?
On Sunday (Nov 14), GQ's Style Editor, Zak Maoui, shared images of Pleasing posters that have been put up in London on Twitter. The brand now has a website and Instagram page – which only follows Harry himself and Harry Styles HQ – and Harry has been liking the posts.
On Monday (Nov 15), the official Pleasing Instagram account then dropped a photo of Harry alongside a caption, which read: "A moment, please. Our Founder, Harry Styles featured on the cover of Dazed, to discuss the birth of Pleasing. November, 2021. The first-ever drop of Pleasing, Perfect Pearl, is now available for pre-order, in limited quantities. Find your Pleasing."
READ MORE: Harry Styles has filed a trademark for his own fragrance and cosmetics line
When will Harry Styles' beauty brand Pleasing launch?
Trendmood has already shared some pieces from Pleasing's first launch, which includes the $65 Perfect Polish Set. Four nail colours are included in the set: "Perfect Pearl", "Pearly Tops", "Inky Pearl" and "Granny's Pink Pearls".
But that's not all. Harry's giving us skincare too: The Pearlescent Illuminating Serum and a Pleasing Pen, which is described as "cooling steel rollers to refresh lips and eyes. One side is an eye gel with natural lingonberry, okra and hyaluronic salt awakens tired under eyes and helps diminish signs of aging, hydrates". On the other side is a marshmallow matte lip treatment to replenish dry lips.
"It's starting with nail polish, because that was kind of the birth of what it was for," Harry told Dazed.
"Me seeing a colour on a flower or a wallpaper or something and thinking, 'Oh, I wanna put that on my nails.' It was a fun little project, but during the pandemic, and when we eventually named it Pleasing, it felt like it was so much more than nail polish. I've always found that the moments in my life which have brought me the most joy are the small ones, whether it be, you know, the end of the night under the stars or a bite of food, or sitting with your friends thinking, 'Oh, I'm never gonna forget this.'
"It's always those moments that I find have the longest-lasting effect on me, in terms of sparking something wonderful in me. I really think that the essence of Pleasing is finding those little moments of joy and showing them to people."
But what about the hoodies? Well, while there's no mention of the clothing on Trendmood's post it looks like Pleasing merch is included in the PR packages, which means it won't be long until we're head-to-toe in Pleasing. Eek!
Harry's beauty brand has been a long time coming. Fans have been convinced that he's starting a new cosmetics brand for a while now after he was spotted wearing a "Pleasing" hoodie.
In June, it was revealed that The Policeman actor filed paperwork under his full name Harry Edward Styles to begin the "wholesale of perfume and cosmetics". In the documents, which were obtained by US Weekly, Harry is listed as Director of the company, named Pleased As Holdings Limited, alongside his longtime executive assistant Emma Spring. Fans also found that the new company shared the same address as Erskine Records Ltd, Harry's recording label.
To add more fuel to the fire, Harry was pictured roaming around wearing merch with "Pleasing" plastered all over it. In one image, Harry wore a black hoodie with "Pleasing" printed on the front of it. And in another, he had a "Pleasing" sticker on the back of his phone.
People then began theorising that "Pleasing" is the name of Harry Styles' new brand.
WHAT IS PLEASING BY HARRY STYLES GIVE IT TO ME NOW

— meredith (@haquarius2194) August 10, 2021
Well whatever Harry's selling, we're buying.
This week on the 'Coming Out Chats' podcast, Drag Race legends Peppermint and Jackie Cox talk about coming out in the age of AOL messenger, identifying as gender-expansive, finding your tribe and giving yourself permission to be who you really are. Listen on the player below.