Here's how to knit Harry Styles' rainbow JW Anderson cardigan
1 July 2020, 16:00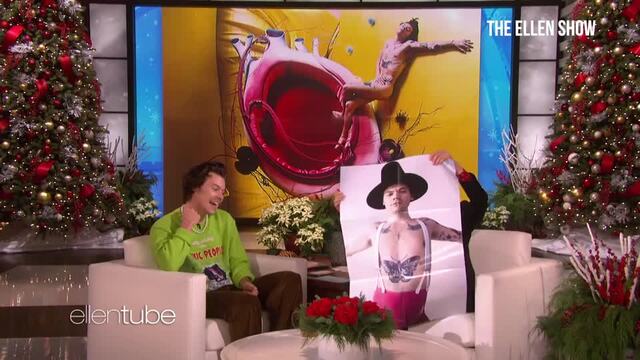 Harry Styles reveals why he got naked for his Fine Line album art
JW Anderson made the pattern public after Harry Styles inspired a viral TikTok trend in which fans recreate the cardigan.
It's official. You can now knit your very own Harry Styles cardigan and you don't have to pay £1250 to rock the rainbow look.
Earlier this year (Feb 26), Harry Styles wore a multi-coloured JW Anderson cardigan for a TODAY show rehearsal and people couldn't get enough of the effortlessly cool clothing item. In fact, fans loved the piece so much that they started recreating it on TikTok. Over the past couple of months, multiple videos have gone viral in which fans replicate the designer garment.
READ MORE: Harry Styles fans are losing it over Target candle that smells exactly like him
Now JW Anderson have listened to fans and made the cardigan pattern public so that everyone can have a go at knitting it.
Taking to his website today, Jonathan Anderson, who founded JW Anderson, released a statement about the cardigan and its rising popularity on TikTok. Jonathan wrote: "I am so impressed and incredibly humbled by this trend and everyone knitting the cardigan. I really wanted to show our appreciation so we are sharing the pattern with everyone. Keep it up."
To get the pattern, all you have to do is visit this webpage and enter your email details. JW Anderson will then send you the pattern so that you can knit at home instead of paying for it upfront. Alternatively, you can see the pattern in full below.
The beloved cardigan was initially priced at £1250 ($1890) but it's now on-sale for £750 ($1134). Still, given that that price is still very expensive for most people, it's great to know that we can now invest in the exact materials and knit it ourselves.
With that in mind, here are some of the viral TikToks of Harry Styles fans recreating it, if you're looking for some inspiration.
I have no idea how to knit but I am learning now!
QUIZ: Would Harry Styles date you?
What do you do you think? Will you knit the cardigan?