Harry Styles fans are losing it over Target candle that smells exactly like him
11 May 2020, 15:09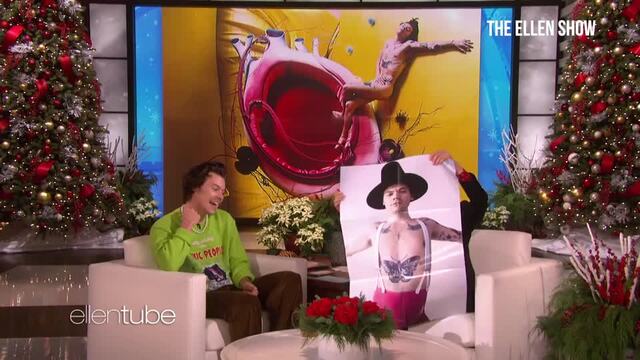 Harry Styles reveals why he got naked for his Fine Line album art
A candle that smells like Harry Styles? I'LL TAKE 10.
It's a question we've all been asking ourselves for many years: What does international treasure Harry Styles smell like? Does he have a floral vibe? Is he a citrus kinda guy? Fresh linen? Maybe he loves a strong, wood scent?
Apparently, Harry Thee Styles smells very nice but if you, like me, have not yet been blessed with opportunity to meet Harry up close and have a cheeky sniff of his perfume, then now is your chance. Kind of.
READ MORE: Ansel Elgort faces backlash after calling a Harry Styles fan "crazy"
Target is selling a candle that smells just like Harry's fragrance of choice and the scent is so convincing that the candle has now completely sold out in Target stores.
Any die-hard fan of Harry's will know that one of his favourite fragrances is Tom Ford's Tobacco Vanille, which is described as "opulent, warm and iconic." Coincidentally, the three words we would also use to describe Harry.
The perfume is inspired by Tom Ford's affection for London and is "reminiscent of an English gentleman's club, redolent with spice." It includes "creamy tonka bean, vanilla, cocoa, dry fruit accords and sweet wood sap for a modern, opulent, and almost heady impression that's all man, unless worn by a woman."
The exact fragrance will set you back around £164 for a 50ml bottle but for the more financially challenged amongst us, Target has a dupe scent that has a much friendlier price tag.
wait guys there's a candle that supposedly smells like harry styles??? i just saw it on tik tok but nobody commented the name

— olivia ruby ☆ (@oliviaaruby) May 6, 2020
Me:
Gets upset having to pay an extra charge for almond milk in my coffee
Also me:
Buys an $18 candle that apparently smells like Harry Styles pic.twitter.com/hcDAVOJslJ

— Kaitlyn, or Kait. (@kaitsthenamex) May 6, 2020
Threshold's Cashmere Vanilla candle will set you back $9.99 and will apparently leave your room smelling just like Harry. The candle contains "notes of tonka bean and cedarwood," which gives it a very similar scent to the Tom Ford fragrance.
The candle has gained so much hype that it's now sold out in stores and online. TMZ say that Threshold is working on producing even more of the candles for you to get your hands on but there's no exact date for when they'll be back in stock.
If you can't get your hands on either of those, Harry also previously revealed that he sometimes wears Gucci's Mémoire d'une Odeur to bed.
BRB, just off to spritz my pillow and pray for some Harry Styles quarantine dreams.