How to listen to Harry Styles read 'Dream With Me' on the Calm app
7 July 2020, 14:52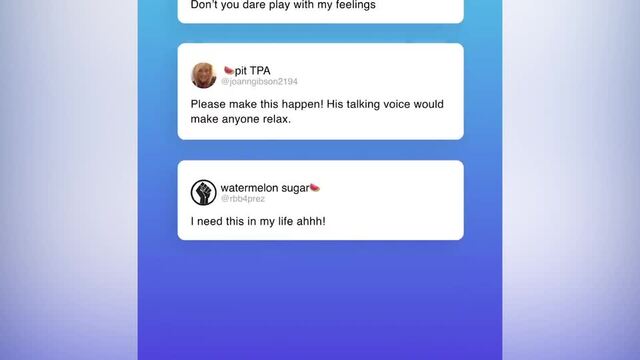 CALM teases new sleep story read by Harry Styles
Harry Styles has teamed up with mental health and meditation app Calm to deliver Dream With Me - a reading by the One Direction star to help aid sleep. Here's how to listen.
Harry Styles is teaming up with meditation and relaxation app Calm, to deliver a brand new reading by the One Direction star himself, to aid sleep.
Teasing the news over the weekend with a watermelon emoji, a book, a bed and the caption 'This Wednesday', the brand revealed that Harry would be narrating the new section titled "Dream With Me".
The bedtime story, coming to the platform on Wednesday 8th July, follows similar formats from the likes of Matthew McConaughey and Stephen Fry who have narrated stories for Calm previously.
READ MORE: How to protect your mental health during the coronavirus pandemic

Naturally, the news has been a welcome break from quarantine life for fans, who "can't wait to sleep like babies" and have applauded the 'Watermelon Sugar' singer for taking an active role in improving the mental health of his supporters.
This isn't Harry's first collaboration with the app, as back in 2018, the singer also helped raise millions of pounds for them in a round of funding led by Insight Venture Partners and actor Ashton Kutcher.
How do I listen to Harry Styles on the Calm app?
'Dream With Me' will be available for subscribers from Wednesday 8th July, and if you're not yet a subscriber but have had your employment impacted by coronavirus, Calm are offering a free subscription.
You'll need to enter your previous employers details to gain access. The monthly subscription usually costs £7.99 and includes over 120 stories and meditations to help you unwind. Alternatively, you can download the app and commit to the seven-day free trial.
Harry's reading will be under the sleep section, among other celebrity favourites including Kelly Rowland's 'Myth of the Baby Dragon'.
Unsurprisingly, fans are already getting pretty excited...
PLEASE!!!!!!! MY HEART CAN NOT HANDLE THE IDEA THAT HARRY STYLES RECORDED THIS AT SHANGRI LA IN MALIBU, IN BOB DYLAN'S OLD TOUR BUS. THIS MEANS SM TO ME. IM HAVING A BREAKDOWN. pic.twitter.com/ioACv7AlJm

— neenz. (@whore4A24) July 6, 2020
"Hello, I'm Harry Styles"

Harry Styles - @calm
0:58 ━━━━━━❍── 2:02
↻ ⊲ Ⅱ ⊳ ↺ volume:▁▂▃▄▅▆▇100%

— Harry Styles Updates (@Harry_StylesUp) July 6, 2020
i apologize to @calm when we break their app this wednesday because we're trying to listen to our boy harry styles.

— Dee ☆// 405 days 🍉🍒 (@harrysmeds) July 5, 2020
If you don't hear from us, just assume we're sleeping very, very peacefully.
READ MORE: Here's how to knit Harry Styles' rainbow JW Anderson cardigan